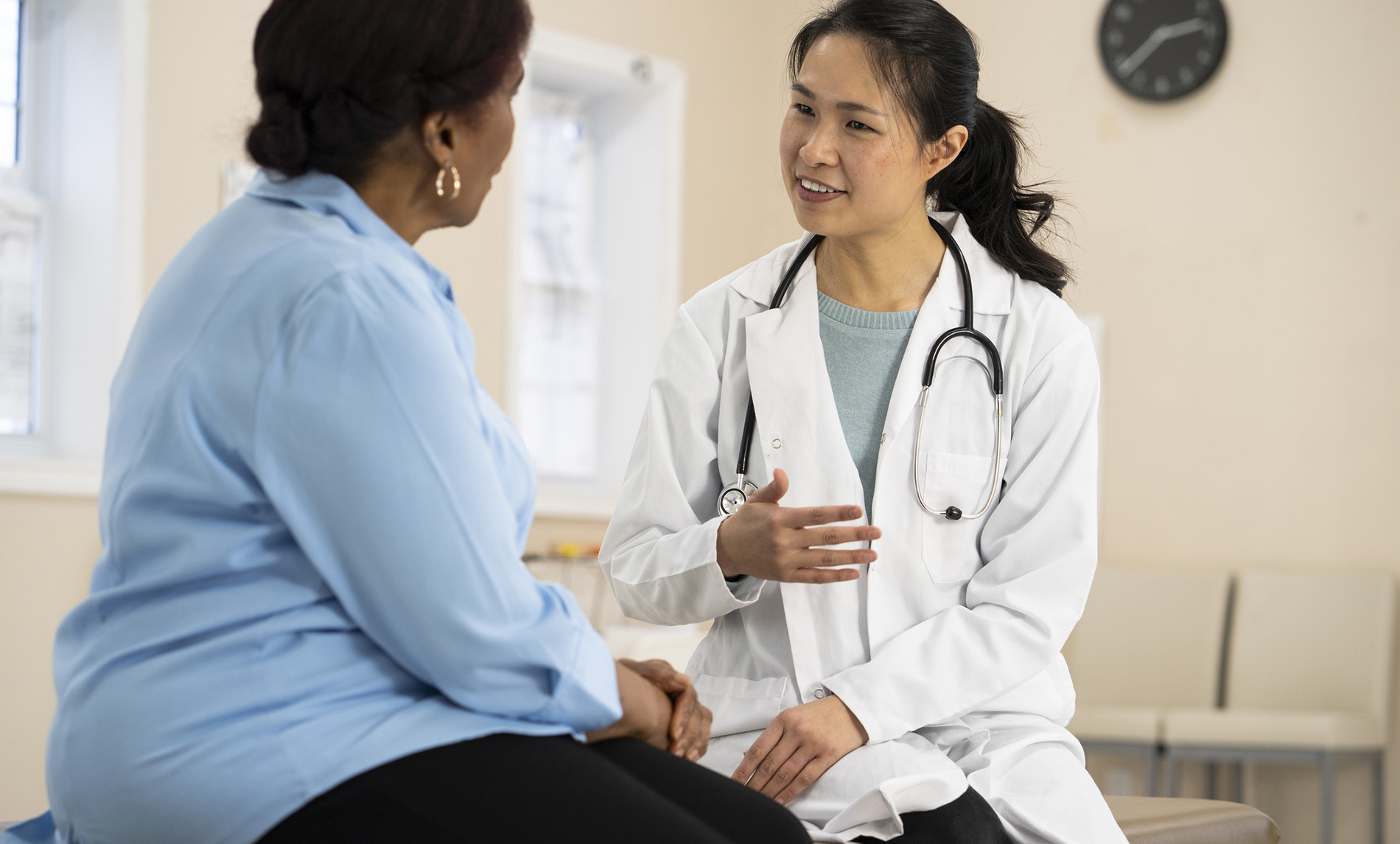 Visiting an experienced gynecologist should be a part of every woman's yearly routine. Our gynecologists are skilled in all areas of women's reproductive health. Seeing your gynecologist regularly helps you stay healthy and be proactive.
Our Goal
Our goal is to provide accessible, comprehensive healthcare for women in a safe, comfortable environment and make each and every patient feel comfortable enough to discuss any concerns.
Our gynecologists are incredibly knowledgeable about women's health and recognize the individuality of each situation, allowing them to help every woman and their needs effectively. Whether you may need surgery or a strategy for treatment, we are prepared to find a solution that works for you. Our team is dedicated to providing high-quality healthcare for women of all ages — because taking care of yourself is important.
About a Women's Health Provider
Many women might find themselves feeling nervous about scheduling an appointment with a gynecologist. But when you get to know more about gynecology, it begins to seem less intimidating. women face a variety of unique health issues throughout their lifetime and require different care along the way. A gynecologist helps ensure you are healthy.
Our Arizona Gynecology Services
We offer a variety of women's healthcare services here at AZGYN to ensure that your health is taken care of. Here are some of our general gynecology and women's health services:
Well-Woman Care
Well-woman care involves an examination of your general and sexual history, a primary checkup, possible consultation for contraception, reviewing medications, and more. This is to get a better idea of your health and how you can take care of it. It's similar to a primary checkup, but it usually involves more in-depth examinations.
Primary Care for Women
We also offer primary care for women, which are general services to stay up to date on your health.
Contraception
Our team at AZGYN can provide you with counseling on contraception as well as help finding the best option that suits you and your lifestyle.
Menopause
Menopause is an entirely new phase of life for women. With this new phase of life often comes questions, concerns, and wondering — all of which our menopause specialists can help you through.
Abnormal Bleeding
If you are experiencing abnormal bleeding, whether on or off your period, it should be checked out immediately to identify a cause and treat it properly. Abnormal bleeding is often caused by other internal issues in the cervix or uterus.
Urinary Incontinence
Urinary incontinence, or unintentional urinating when you laugh or cough, for example, can be caused by a few different things. It's best to get it checked out to see how you can best take care of it and treat it.
Pelvic Pain
Pelvic pain is a problem for many women, especially as they age. If you struggle with pelvic pain, there may be an underlying cause. These causes can include musculoskeletal issues or reproductive tract issues. Regardless of what the cause is, our experienced gynecologists can help you get to the bottom of the problem and start relieving your pain.
Hormone Replacement
Hormone replacement is a great method to help battle symptoms of menopause by giving your body the hormones it needs to function properly. For example, the creation of estrogen in the body heavily decreases as menopause occurs. Because of this, hormone replacement with estrogen can help fight symptoms of menopause in many women.
Adolescent Health
We offer general adolescent health services as well.
Ovarian Cysts
Ovarian cysts are pockets that fill with fluid that form in or on a woman's ovary. When left untreated, they can often cause health complications such as pain, weight gain, irregular periods, and more. Ovarian cysts are also common in those who have PCOS.
Uterine Fibroids
Uterine fibroids are abnormal growths of the uterus. Though they aren't cancerous, they can cause painful, long periods, and other issues. They often appear during a woman's child-birthing years. If you notice abnormal pain during periods or during intercourse, you should talk to a professional to have it examined.
Endometriosis
Endometriosis is a painful, chronic illness where the tissue that normally is lining the inside of the uterus is on the outside. Anyone with endometriosis should have regular visits to a gynecologist in order to develop treatment strategies.
Vaginal Prolapse
Prolapse can happen when the muscles inside the vagina are stretched or weakened over time. These muscles can be retrained or strengthened again over time, especially with the help of surgery.
Reproductive Tract Anomalies
Reproductive tract anomalies include structural issues as well as abnormal growths. Reproductive surgery can help to identify and remove anomalies in the reproductive tract that are causing issues. While sometimes these anomalies might not cause any symptoms, it's best to have them removed before they do.
Vaginal Discharge
While vaginal discharge is normal, sometimes it can signal that there is something wrong with the pH or internal health of a woman, like when there is a yeast infection.
Pelvic Infections
Pelvic infections can be caused by a variety of bacteria or infections. Common causes are often chlamydia or gonorrhea, both infections which enter through your reproductive organs. When left untreated, these diseases can worsen to pelvic infections and other issues.
Sexually Transmitted Diseases (STDs)
Sexually transmitted diseases are diseases spread through sexual intercourse. Whether you want to be proactive by being tested or need treatment for an established STD, our experienced and compassionate gynecologists can help.
Cosmetic Concerns
Cosmetic concerns involve reconstruction and repair that can help improve the appearance, function, and sometimes even sensitivity of the vagina.
Decreased Libido
Decreased libido can occur at any time. But when it doesn't seem to be going away, there might be a problem. Don't wait to talk to one of our trusted gynecologists for advice.
Painful Intercourse
Painful sexual intercourse can often be the sign of underlying problems such as uterine fibroids, endometriosis, ovarian cysts, and more.
Cervical Dysplasia
Cervical dysplasia refers to abnormal, often precancerous, cells growing on the cervix. Both prescription medication and surgery can help treat dysplasia. Our women's health providers will know which option is best for your condition.
Cervical Masses
Masses can be both cancerous and non-cancerous. Polyps, for example, are often non-cancerous. Regardless, seeing a gynecologist will help to stay proactive on any masses that may be identified.
Laparoscopic Abdominal Cerclage
Laparoscopic abdominal cerclage is a highly effective, well-tolerated surgical treatment of patients with refractory cervical insufficiency or anatomic limitations to vaginal cerclage.
Vaccinations
Vaccinations are another part of women's health services that we offer to help keep our patients as healthy as possible.
Breast Masses and Pain
Our team can also examine breast masses or pain that you may be experiencing, as these can often be precursors to breast cancer.
Pre-Surgical Weight Loss Management
Before having any sort of weight loss surgery, a specialized diet will need to be created to keep you healthy and functioning properly – both before the surgery and after. Our women's health providers can assist you in creating a plan that works for you.
Exam Consultation
We offer consultations for any of our exams and services so that our patients are comfortable. We want to help you find the best solutions for you.
Our Minimally Invasive Surgical Procedures
At AZGYN, we use the latest technology, trusted methods, and skilled gynecologists to perform surgical procedures on:
Ovarian cysts, uterine fibroids, chronic pelvic pain
Sterilization, vaginal prolapse, vaginal reconstruction
Stress urinary incontinence and cervical dysplasia
Endometriosis, abnormal uterine bleeding, and reproductive tract anomalies
Schedule an Appointment With Our Gynecologists Today
Our goal is to provide extensive, accessible healthcare for all women. Whether you're looking for primary care or reproductive health services, our professionals are here to help.
FAQ
Question: Do You Do Telehealth Visits?
Answer: AZGYN is proud to extend a variety of our general services through telehealth. We can offer advice, support, and education through our online contact with patients. We understand just how complicated it may be right now to get to a women's health provider in person. If you're looking to schedule a telehealth visit with us.
Question: Where Are You Located?
Answer: AZGYN has multiple locations in the Phoenix and Mesa areas. Find the one that is closest to you, and don't hesitate to give us a call. Our locations include:
Phoenix McDowell
Phoenix Osborn
Phoenix Bell
Mesa
Paradise Valley
Learn more about all AZGYN locations in Arizona.
Question: How Do I Schedule an Appointment?
Answer: There are a few ways to schedule with AZGYN. Schedule an appointment with our team by calling one of our locations or using our patient portal to easily create your next appointment online.
New Patient PacketUrology Instructions