At Arizona Gynecology Consultants, we provide a variety of services designed to address all areas of women's reproductive health. Regular visitations with your gynecologist help to support your health and be proactive concerning various medical issues unique to women. We are committed to providing healthcare that keeps you healthy and comfortable at all stages of life.
The Importance of Surgical Instructions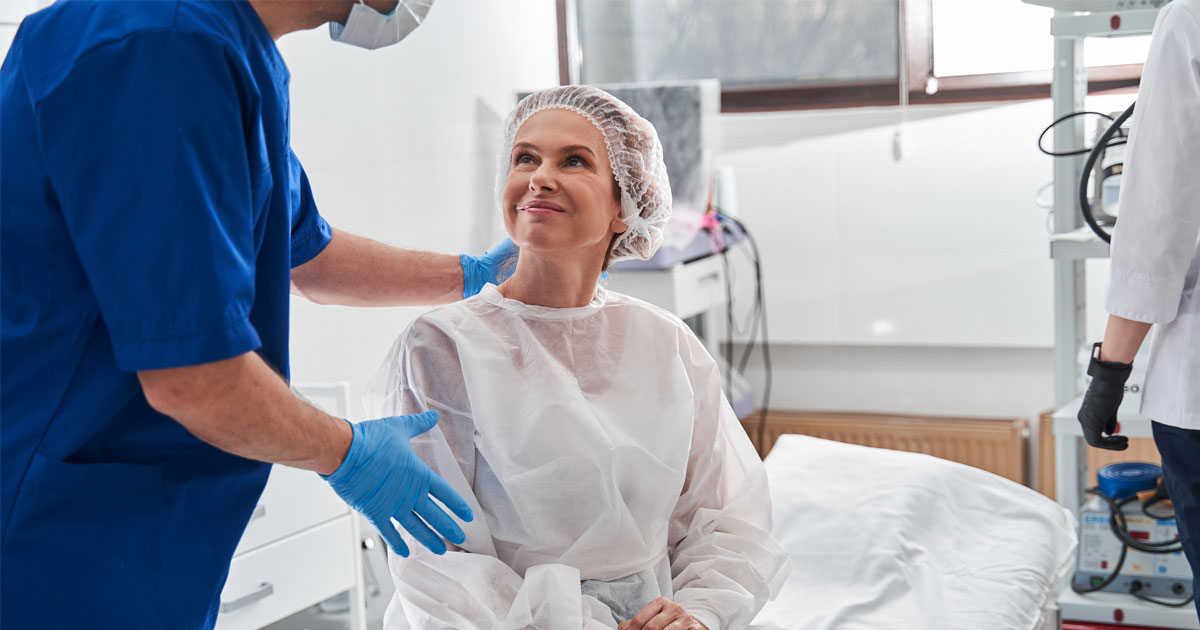 Surgery can address issues that impact your comfort, health, and quality of life, and minimally invasive surgery can ensure that this happens in a way that improves both the process and the surgical outcome. Minimally invasive surgery causes less trauma to the body because it disturbs less tissue and can subsequently reduce scarring, minimize blood loss, shorten recovery time, and reduce pain.
In our continued commitment to ensuring the best care possible, we've provided detailed information regarding what you can expect before and after your surgical care.
Pre-Surgery Instructions for AZGYN Patients
Knowing what to do and expect prior to your surgery can help combat nerves regarding the process and ensure the procedure goes smoothly.
One to Two Weeks Prior
Two weeks before your surgery, you can typically continue as usual, maintaining your normal diet, daily routine, and medications. However, in some circumstances, you may be advised to stop certain medications, whether prescription medications or herbal supplements.
For example, it is important to stop taking anti-inflammatory medication two weeks prior to your surgical appointment. It is crucial to discuss your complete medical history with your gynecologist when you schedule your surgery and ask whether certain medications would be safe for use. This can greatly reduce any potential risks you may experience.
The Night Before
Most pre-surgery preparation takes place the night before your surgery. Start by taking a bath or shower the night before. Not only can this help ensure you feel more comfortable, as you may be instructed to refrain from bathing in a tub after surgery, but it helps to ensure you are as clean as possible before your surgery. Depending on the surgical procedure scheduled, you may be instructed to use a specific cleaning agent in the surgical area. Take another bath or shower in the morning prior to your surgery and clean the surgical area again if instructed.
Medications used in surgery can increase nausea. This is why it is important to stop eating by midnight the night prior to your surgery.
The Morning of Surgery
You can continue to drink clear liquids up to three hours prior to your scheduled surgery time, including water, sugar-free sodas, and coffee or tea with no add-ins such as cream or sugar. However, refrain from eating or drinking other liquids. This helps to minimize the risk of nausea that could cause complications during your surgery.
We do ask that you drink Ensure Pre-Surgery. This drink provides carbohydrates for your body to help offset the physical stress caused by fasting. It is important to select the right Ensure, as substitutions aren't acceptable. If you can't find this specific beverage, any 24 oz. Gatorade that doesn't include red food coloring is an acceptable alternative. This provides just enough of a boost to help you through the fast without causing any potential surgical issues.
2-3 Hours Prior to Surgery
When you reach three hours prior to surgery, stop consuming clear liquids. You may also be prescribed medications to take before arrival at the surgery suite – these are typically given to help alleviate pain associated with the surgery.
On the day of your procedure, you'll be asked to arrive two hours prior to your surgery time. When you arrive, you'll be directed to the pre-operative area to meet your surgical team. Your team will walk you through any additional prep necessary before your surgery begins.
Following your surgery, you'll be brought to a post-anesthesia care unit to recover in a monitored environment. It is important to have a trusted adult bring you to your surgical appointment and safely drive you back home. Due to the nature of the surgery itself, as well as the effects of pre-surgery and anesthesia medications, it is unsafe for you to drive yourself. If you live alone, you should also find someone who will be able to spend the first night post-surgery with you.
Pre-Operative Instructional Video
Watch our instructional video to learn more about preparing for your upcoming surgery.
Post-Surgery Instructions for AZGYN Patients
Our post-surgery instructions are designed to help minimize issues of pain and ensure your body can heal safely. The most important aspects of aftercare involve pain management, incision care, diet, activity, and physical restrictions. These elements all impact the level of comfort you can expect during healing, the length of the healing process, and the potential risks you may face.
When properly managed, post-surgical care can ensure you heal quickly and effectively. Keep in mind that it is common to need extra support for the first few days following surgery, so you may want to ask a friend or family member to stay with you for a few days.
Post-Surgical Pain Management
Safe pain management is important to us. We suggest a combination of Tylenol and Motrin or ibuprofen. We suggest alternating these medications throughout each day for a week following your surgical procedure as needed. In most circumstances, you'll also be prescribed a short-term narcotic pain medication of a higher strength to address pain beyond what the other medications can control.
Following a careful schedule can help ensure that your pain is kept to a minimum and attention to the instructions provided by your medical team, as well as the instructions on the bottle, will allow you to keep your pain well-controlled.
Incision Care
Keeping your incisions clean is important for proper healing and is vital in preventing infection. You should leave any bandages in place for 48 hours unless otherwise instructed, but in many cases, you can shower with these bandages on. When it is time to take the bandages off, do so carefully.
When it comes to cleaning your incision, rinsing is all you need to do – do not scrub or directly apply soap to the area. Simply letting warm, soapy water run over the incision is enough to keep it clean. After cleaning, avoid excess moisture at the incision site. Make sure the area is kept dry following your shower as well as throughout the day. Pat the area with a clean, dry towel or washcloth to minimize irritation and keep it dry. If you notice any swelling, redness, pain, or drainage, contact our office.
Post-Surgical Diet
When it comes to your diet, there are rarely any restrictions you need to observe. In general, we always suggest a well-balanced diet to support lasting health. While we often don't require any diet changes, we do suggest avoiding carbonated beverages and foods that can cause intestinal gas. Gas can cause increased discomfort and make it difficult to pass stool. It's also important to know that post-surgical pain medications often cause constipation, and it's not uncommon for patients to experience a delay in bowel movements. Stool softeners can be beneficial for the first week or so following surgery.
Physical Restrictions
Even minimally invasive surgeries will have restrictions when it comes to physical activity following the procedure. For all surgeries, avoid lifting more than ten pounds for six weeks. You should also avoid overly strenuous activity to prevent hernias. However, physical activity and movement are still important for a healing body, so you should stay active via frequent walking and other non-strenuous activities.
Post-Surgical Follow-Up
Please schedule follow-up appointments with our office. Most patients are asked to schedule two appointments designed to check the progression of healing, go over medical changes, and address any questions or concerns. You can rely on the professionals at AZGYN to be there for you through the entire recovery process. We can answer any questions concerning your pain management, healing, activity, and restrictions.
Post-Operative Instructional Video
Watch our instructional video to learn more about your post-operative care.
Our Surgical Procedures
AZGYN offers minimally invasive surgical procedures designed to restore health and relieve pain. We utilize the latest technology as well as tried and tested methods to perform services for:
Chronic pelvic pain, uterine fibroids, and ovarian cysts
Vaginal prolapse, vaginal reconstruction, sterilization
Cervical dysplasia and stress urinary incontinence
Abnormal uterine bleeding, endometriosis, and reproductive tract anomalies
Understanding Your Unique Care
Different surgical procedures come with their own unique expectations of care, including pre- and post-op instructions. While our general guidelines are beneficial for all surgeries, there may be slight alterations depending on the procedure.
Vaginal Procedures and Hysteroscopy
Vaginal procedures and hysteroscopies require some additional considerations regarding post-op care. In most instances, showering is fine, but you should delay soaking in a tub or swimming for up to six weeks to prevent anything from entering your vagina.
The use of tampons, douching, and participating in intercourse should also be delayed until you are cleared to resume these activities. If you experience heavy bleeding or severe nausea, it is important to call your medical provider. You may also experience constipation that can be relieved with medication and stool softeners.
Abdominal Procedures
Hysterectomies, cesarean sections, and other abdominal procedures can cause a significant delay in returning to normal activity. Take care to stay moving and active, but it is important to avoid anything strenuous – in general, be careful not to push your body beyond what it can tolerate. You will also be asked to delay intercourse or the use of douching or tampons until your doctor clears you. You can bathe and shower as normal, just take extra precautions to keep the incision dry.
You're in Good Hands
At Arizona Gynecology Consultants, we are committed to women's health, safety, and comfort, and we understand how stressful the thought of a prospective surgery can be. With attention to pre- and post-operative care, you can help us ensure that the surgery goes smoothly and that you can heal safely and effectively.
As your surgery date approaches, you'll receive detailed, clear instructions specifically tailored to Arizona gynecology services and your medical needs.