Birth control is a major decision for every woman. Choosing the right birth control option isn't always about contraception, either; some women use different types of birth control to manage the symptoms of gynecological conditions such as endometriosis, ovarian cysts and abnormal uterine bleeding issues.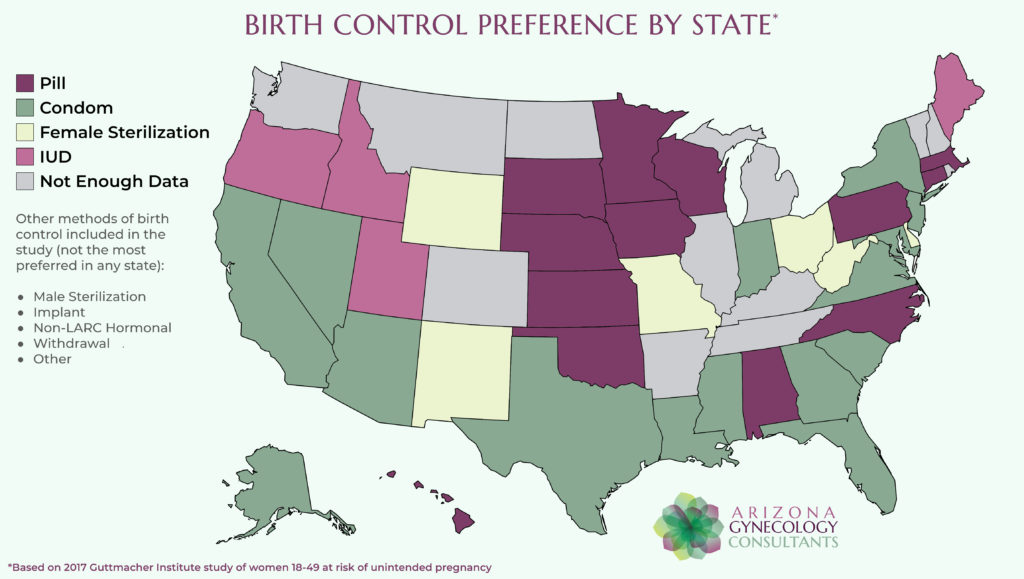 If you're considering starting birth control, changing the type of birth control you use, or making other decisions about birth control, it's important to know your options and speak at length with your doctor about your concerns with any of those options.
Types of Birth Control
Birth control exists in both preventive and situational forms. Some women with hormone irregularities benefit from hormone-based birth control options while other prefer intrauterine devices (IUDs) that have a less hormonal impact. Other women prefer permanent birth control methods.
Before starting any type of birth control, make sure you fully understand the intended effects and potential risks.
Hormonal Birth Control
Hormonal medications in pill form are how millions of American women manage their family planning and control any uterine conditions. It's easily the most popular form of birth control,
Hormonal birth control exists in pill form as well as dermal patches, injections and implants. Some intrauterine devices also qualify as hormonal birth control, because they release different hormones into the bloodstream.
It's vital to consider the potential side effects of these options, however. Some women prefer alternatives to hormonal medications due to their effects on mood, cognition and sleep.
Intrauterine Devices
IUDs provide an effective alternative to hormonal medications. It's important to remember, however, that some IUDs still contain hormones. Non-hormonal IUDs physically obstruct the fertilization process and last anywhere from five to 10 years. Some women elect to have IUDs with low doses of hormones to manage severe menstrual cramping.
Some patients experience complications with IUDs due to anatomical difficulties, incompatibility with materials, and other factors. If you have an IUD implanted, it's crucial to follow your doctor's directions and call immediately if you believe the IUD has dislodged from its proper position.
Barrier Contraceptives
As the name suggests, this method of birth control involves placing a barrier between the uterus and a partner's sperm cells. One of the most common forms of barrier birth control is condom use, but it's important to remember that condoms are not foolproof.
Condoms can break or degrade, and it's important to always check a condom for expiration date and package integrity first. If a condom's package is open, damaged, punctured or torn, discard it and use a new one. If a condom breaks during intercourse, it's best to stop and have your partner put on a new one before continuing.
Other forms of barrier birth control devices include diaphragms and vaginal sponges. These methods are not surefire methods for preventing pregnancy and require reapplication or reinsertion every time you have sex.
A diaphragm is essentially a reverse condom that fits inside the vagina and holds to the cervix with a ring. The outer layer protrudes from the vagina and the partner enters inside the diaphragm, which then catches the partner's sperm cells.
Vaginal sponges, on the other hand, effectively soak up the partner's sperm cells for disposal.
Fertility Awareness
Some couples do not use traditional birth control methods for personal or religious reasons. These couples can often successfully manage their family planning by keeping close tabs on the woman's menstruation and ovulation schedule. During times when the woman is most fertile, the couple can simply abstain from sex or use barrier contraceptives.
Sterilization
Some women and couples do not wish to ever have children. In these cases, permanent methods of birth control work very well. Sterilization involves either a vasectomy for men or a tubal ligation for women.
A vasectomy is an outpatient procedure that is minimally invasive, reversible and entails very mild discomfort and easy recovery. Tubal ligation is a more invasive and permanent option, so couples should discuss these options at length to decide what would work best for them.
Managing Your Birth Control
Unless you plan to rely solely on barrier birth control methods or fertility awareness, you need to know the various effects any type of birth control will have on you and your body. Hormonal birth control medications and devices can sometimes complicate preexisting medical conditions or conflict with certain aspects of your lifestyle. For example, birth control may not be as effective for a smoker as it would be for a non-smoker.
Women who are pregnant or breastfeeding should not use birth control until a doctor advises that it is safe to do so. The hormones in most birth control options can cause serious fetal harm or other complications with pregnancy.
Women who have had different types of cancer, undergone certain medical procedures or who have serious health problems (such as heart disease, blood clots, diabetes or high blood pressure) need to be careful with birth control as well.
The staff at Arizona Gynecology Consultants is always available to answer patients' questions and address all concerns about birth control. Starting or changing birth control isn't an easy thing to do, and our providers aim to provide holistic care that treats the whole person. Learn more about the different birth control options by contacting Arizona Gynecology Consultants today.
Founder and Medical Director of ARIZONA GYNECOLOGY CONSULTANTS
Dr. Kelly Roy is a specialist in surgical gynecology and advanced laparoscopy (and hysteroscopy). She is a long-time resident of Arizona and obtained her Bachelor of Science degree in Biomedical Engineering at Arizona State University before finishing her Doctorate of Medicine at the University of Arizona in 1997.
Dr. Roy completed her residency in Obstetrics and Gynecology at the then "Banner Good Samaritan Hospital" (now Banner University Medical Center), in Phoenix Arizona in 2001.
Well known for her teaching and surgical ability, she is on the faculty at the residency program at both Banner University Medical Center and Saint Joseph's Hospital in central Phoenix and is a Clinical Assistant Professor of Medicine at the University of Arizona College of Medicine, Phoenix Campus. Dr. Roy has taught advanced surgical techniques to medical students, residents, fellows and colleagues for over 15 years.
Dr. Roy is also a consultant to the medical device industry and has participated in the design and clinical testing of many instruments and surgical devices available on the world-wide market today.
Read More About Dr. Kelly Roy, MD   |   WebMD Profile   |   Health.USNews.com Profile |  Current Obstetrics and Gynecology Reports: TFA with the Sonata System