We've all heard about endometriosis, a condition in which the uterine lining (endometrium) develops outside the uterus and grows on other organs within the abdomen, including the ovaries. There is another condition that can take place with the endometrium, known as uterine adenomyosis. This condition affects women, mostly in child-bearing years, and can be quite painful. Although most women have never heard about it, near 20 percent of them are affected by it.
History and Definition of Adenomyosis
Whereas it was described as early as 1860, adenomyosis was not properly diagnosed or named until the early part of the 20th century. In 1908, Thomas Cullen investigated its causes and named it, determining it was not an inflammation of the uterus, because it did not present any signs.
Not until 1972 did a proper definition come about, made by Dr. Charles C Bird, MD. At that time, adenomysis was described a "benign invasion of endometrium into the myometrium, producing a diffusely enlarged uterus which microscopically exhibits ectopic non-neoplastic, endometrial glands and stroma, surrounded by the hypertrophic and hyperplastic myometrium".
What Is Adenomyosis?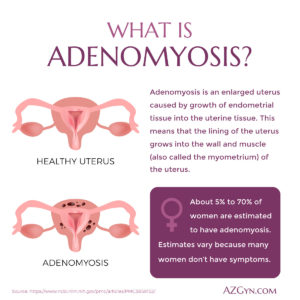 Adenomyosis is a condition in which the endometrium, instead of growing out into the uterus, grows into the uterine wall (myometrium). Each time the lining (endometrium) is stimulated, during the menstrual cycle, the trapped lining in the myometrium is also stimulated and can make menstrual cramps and pain worse. This can disrupt the quality of life for the women who have to deal with it. And because adenomyosis symptoms vary due to he flux of estrogen levels going up and down, the menstrual cycle brings more discomfort than usual.
The condition can either be generalized adenomyosis, spread out over a large area of the uterine wall, or localized a small area or spot, also known as adenomyoma. The area that is affected by adenomyosis is called the endometrial-myometrial junction, where the endometrium and myometrium meet. It is the disruption of this junction – adenomyosis – that is considered a contributing factor in the failure of eggs to settle and stay in the uterus, thus preventing women from becoming pregnant.
Symptoms and Treatment
In spite of it being a benign condition, adenomyosis symptoms run the gamut and include:
Painful periods (dysmenorrhea)
Heavy periods (menorrhagia)
Bloody discharge or spotting between periods (metrorrhagia)
Bloating during pre-menstruation
Pain during or after sex (dyspareunia)
Chronic pelvic pain
Tender uterus and larger than normal in size
Women may also suffer from depression, irritability and reduced fertility or infertility. However, when women go into menopause and their estrogen levels drop, so do the symptoms of adenomyosis.
Drugs and Hormones
Adenomyosis treatments vary with the severity of the symptoms that present themselves. If the symptoms are mild enough, doctors can treat them with anti-inflammatory drugs and hormonal treatments. Usually they include contraceptive pills and IUDs. Certain surgeries can be performed that will treat the condition as well.
Uterine Artery Embolization
This procedure is usually used for uterine fibroids, but if the adenomyosis is just a small area or spots, this surgery could take care of it. The blood supply to the affected area is cut off and the adenomyosis shrinks. A 2007 study showed that after three to five years, the symptomatic pain was reduced by half and the success of the procedure was about 60 percent. This minimally invasive procedure leaves no scars.
Endometrial Ablation
Considered as a last resort procedure, endometrial ablation is conducted when other options have failed to relieve the symptoms. Because it destroys the endometrium, this is a permanent solution, like a hysterectomy and will only be done if the woman no longer wishes to become pregnant. It does, however, relieve the symptoms of adenomyosis, and the woman either has no more periods or has reduced bleeding. This may not work if the endometrium has infiltrated too far into the myometrium (uterine muscle wall).
MRI Surgery
MRI guided focused ultrasound surgery (MRgFUS) uses an MRI in real time to monitor focused high-intensity waves that create heat and destroy the targeted tissue. This is an early stage, non-invasive procedure that requires an overnight stay in a hospital or surgicenter setting. Because the uterus remains, this procedure allows a woman to still have children. The side effects are few and the prognosis is good, but it is not recommended for a woman who also has endometriosis.
Hysterectomy
Hysterectomy is the only treatment that will eliminate all adenomyosis symptoms effectively and permanently. Hysterectomies have been the treatment for years, but are only done in severe cases of the condition and if the woman no longer wants to get pregnant. To prevent early menopause, the ovaries may be left in, if they are not affected by endometriosis, which can be a co-occurring condition.
Risk Factors and Causes
Middle-aged women who already have had children (the more children, the greater the risk) or who have had uterine surgery, such as a cesarean, or an inflammation after childbirth are more at risk for adenomyosis, however it can affect any woman before menopause. But a root cause has still not been found.
One of the risks of having adenomyosis is anemia from the blood loss each month. Anemia is a condition caused by an iron deficiency. This means the body cannot make enough red blood cells to carry oxygen to the various parts of the body. Dizziness, fatigue, and irritability ensue and can lead to depression and anxiety.
Adenomyosis Diagnosis
In the past, the only way to diagnose adenomyosis was postoperatively and it had never been fully characterized nor any epidemiological studies made, mostly due to the fact that surgical removal was also the only way to get rid of the symptoms. Adenomyosis was severely understudied and understood until recently, when better diagnostic tools became available. However, doctors have done extensive studies in recent years and have discovered much from the information.
A 2008 study determined that adenomyosis was just a variant and not a disease on its own. The symptoms that are associated with this condition, are also symptomatic of endometriosis and uterine fibroids, thus the recommendation for a hysterectomy to get rid of all the symptoms has continued to be the best solution.
A paper written in 2010 cited several studies on adenomyosis, one of which was done in Italy in 2009, that concluded women who had had induced abortions, dysmenorrhea or chronic pelvic pain were more likely to have adenomyosis. A different study corroborated that dysmenorrhea and chronic pelvic pain were symptomatic of adenomyosis, adding depression as another factor. A third study determined that women who are diagnosed with adenomyosis most likely also have endometriosis.
Biopsy
One of the preoperative diagnostic tools used are biopsies, using keyhole surgery or laparoscopy in order to take a tissue sample. With the addition of a camera, it has been easier to get a sample, but still no guarantee to get the "right" sample, because adenomyosis doesn't always present itself readily, like endometriosis. As in the past, several samples would have to be taken to get a good diagnosis. The best way is through the vagina, however that may damage the uterus and may make it more difficult to have children in the future, and going through the abdomen is still only good for endometriosis diagnoses.
Better Methods
With the advent of MRI's, diagnoses have been easier to make. With the MRI, the endometrium and myometrium are clearly defined and the endometrial-myometrial junction is also clearly distinguishable. The thickening of the affected area of the uterine wall is now also considered confirmation of adenomyosis. An adenomyosis ultrasound or more specifically, a Transvaginal ultrasound (TVU) is another way to diagnose possible adenomyosis. TVU is able to identify myometrial cysts but most importantly, disparities of myometrial texture and composition, which signal the presence of adenomyosis.
Medical Care for Adenomyosis
Adenomyosis is one of two endometrium-related conditions that are fairly common to have. It can cause painful and heavy periods, as well as chronic pelvic pain, bloating and an enlarged, tender uterus. The causes are mostly unknown, however women who have had uterine surgery or trauma, are more at risk than others. Diagnosis can be done more accurately nowadays with MRIs and TVUs, although the best way to get rid of all symptoms, especially if they are extremely painful and risk quality of life, is getting a hysterectomy.
That may not be the best answer for someone with only minor symptoms or who wishes to still have children. There are less invasive and permanent treatments, such as hormonal treatment or minor surgery to excise the involved portion of the uterus.
If you have any of the symptoms and suspect you may have adenomyosis, it's best to check with your doctor as soon as possible. Following a pelvic exam, he or she may schedule you for an MRI or TVU to get a better look.
Arizona Gynecology Consultants is located in the Phoenix and Mesa metropolitan areas. We provide expert and individualized health and medical services for women of every age, treating each patient as a unique person. Our team specializes in all aspects of women's health and we are dedicated to practicing excellence in women's care.
SCHEDULE A CONSULTATION TO SEE IF ADENOMYOSIS IS THE ROOT CAUSE OF YOUR DISCOMFORT.
Founder and Medical Director of ARIZONA GYNECOLOGY CONSULTANTS
Dr. Kelly Roy is a specialist in surgical gynecology and advanced laparoscopy (and hysteroscopy). She is a long-time resident of Arizona and obtained her Bachelor of Science degree in Biomedical Engineering at Arizona State University before finishing her Doctorate of Medicine at the University of Arizona in 1997.
Dr. Roy completed her residency in Obstetrics and Gynecology at the then "Banner Good Samaritan Hospital" (now Banner University Medical Center), in Phoenix Arizona in 2001.
Well known for her teaching and surgical ability, she is on the faculty at the residency program at both Banner University Medical Center and Saint Joseph's Hospital in central Phoenix and is a Clinical Assistant Professor of Medicine at the University of Arizona College of Medicine, Phoenix Campus. Dr. Roy has taught advanced surgical techniques to medical students, residents, fellows and colleagues for over 15 years.
Dr. Roy is also a consultant to the medical device industry and has participated in the design and clinical testing of many instruments and surgical devices available on the world-wide market today.
Read More About Dr. Kelly Roy, MD   |   WebMD Profile   |   Health.USNews.com Profile |  Current Obstetrics and Gynecology Reports: TFA with the Sonata System