Estrogen plays a significant role in a woman's life. Estrogen contributes to reproductive health as well as regulating aging. Most women understand that estrogen levels usually decrease during perimenopause or menopause, a sign that they are leaving the childbearing years behind.
Sometimes, it can happen early, such as when a woman over-exercises on a regular basis (exercise addiction), or she suffers from an eating disorder like anorexia, and her body can no longer maintain estrogen levels.
Decreasing estrogen levels, although considered a normal part of menopause, may cause adverse effects to a woman's body and her health.
Estrogen in the Body
Estrogen is most notably responsible for the sexual development of girls during puberty. These levels of estrogen fluctuate throughout a woman's lifetime up until menopause, when low levels of estrogen completely prevent menstruation and ovulation.
Estrogen also regulates:
Changes in breast tissue during adolescence and pregnancy
Menstrual cycles
Body weight, by helping control metabolism
Development and growth of healthy bone tissue
Healthy cardiovascular activity
With so many effects on various parts of the body, it is important that estrogen levels maintain a healthy standard. Low estrogen levels can be a sign of age, but seriously low levels can have lasting negative effects.
Causes for Concern
Any condition that impairs the ovaries can reduce estrogen production. The most common risk factor for women is age. As women age, perimenopause and menopause cause the body to produce less estrogen. Estrogen levels can also decrease for various other reasons, including:
Premature ovarian failure
Congenital conditions: Turner syndrome
Thyroid disorders
Excessive exercise
Being severely under or overweight
Chemotherapy
Low functioning pituitary gland
Other unique cases can include excessive exercising and eating disorders such as anorexia. If a woman is more than 15 percent underweight, the body can no longer maintain normal estrogen levels. In order to maintain healthy levels of estrogen, a woman should maintain a healthy diet, lifestyle, and weight.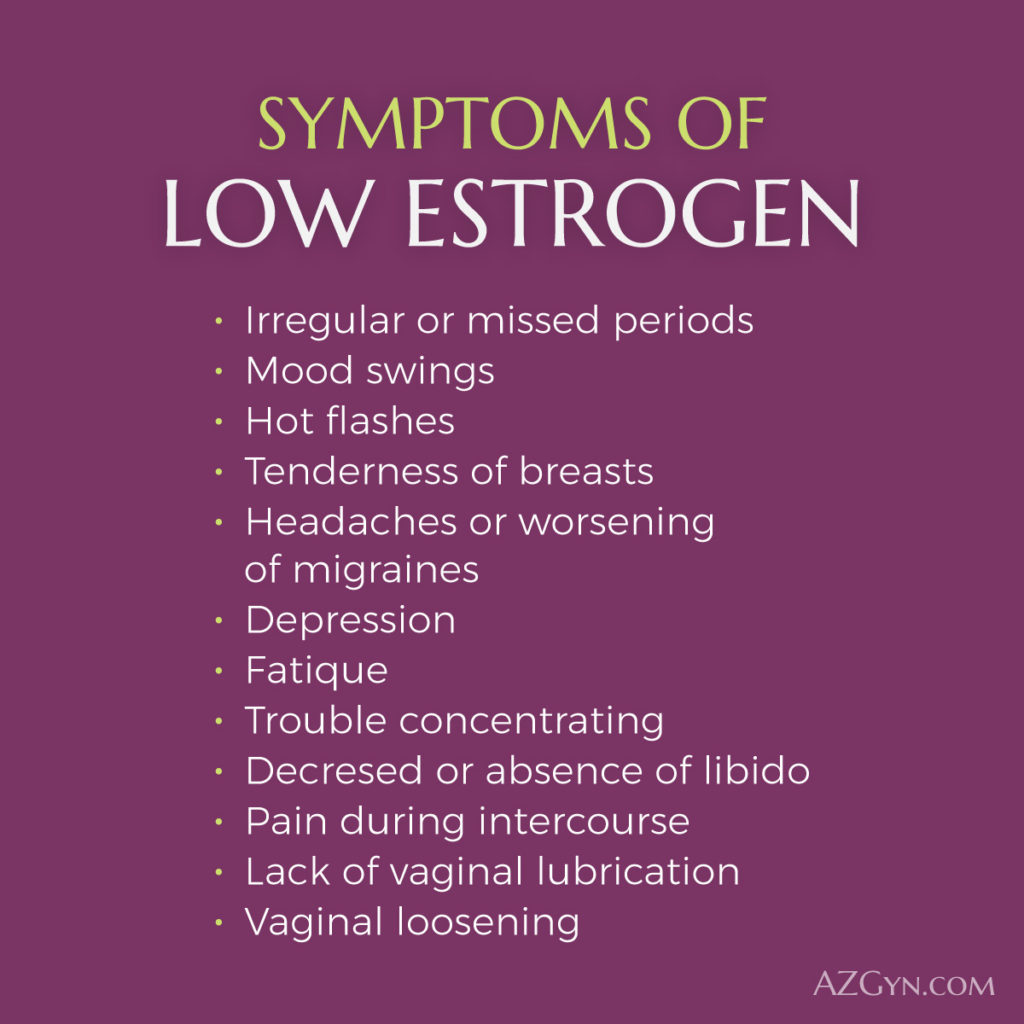 Effects and Symptoms
As women approach the age of 40, they may wonder what symptoms to look for that herald decreasing levels of estrogen. Estrogen depletion can bring on a combination of hormonal and biochemical fluctuations that can lead to changes in the brain and nervous system.
Irregular Periods
Estrogen is the critical hormone in regulating a woman's period and menstrual cycle. Low estrogen levels can cause irregular periods, including shorter or longer periods, light or heavier flow, spotting, or missed periods altogether.
Infertility
Low estrogen directly affects ovulation. Without estrogen, ovulation will not occur making it difficult to become pregnant. This is considered infertility.
Hot Flashes and Night Sweats
The most common symptoms and probably the least liked, hot flashes and night sweats can go on for a long time: 7 to 11 years. They are caused by the hypothalamus which controls body temperature. When estrogen levels start going down, the hypothalamus can no longer regulate body temperature and even the slightest change can cause hot flashes or night sweats to bring the temperature down, or chills to bring it back up.
Insomnia and Fatigue
Estrogen produces serotonin, a neurotransmitter in the brain that triggers melatonin, a hormone that helps a person sleep. Once a woman goes into menopause, the depleted estrogen levels produce less serotonin and by extension, less melatonin. With the night sweats that interrupt sleep, fatigue and insomnia become the new normal.
Mood Swings
Hormonal imbalances, that often make teenagers moody and difficult, are back during menopause, making women grumpy. Add lack of sleep and it can get worse. Mood swings – laughing, crying, anger and upset – at the drop of a hat – are all part of the package.
Depression and Difficulty Focusing
Serotonin also affects mood and social behavior, as well as memory, sexual desire and function.  With lowered serotonin levels, depression, not just mood swings, can occur and it becomes more difficult to recover from it. Memory lapses and trouble focusing or concentrating are two more symptoms of low estrogen and serotonin levels. Some experts believe that they put women at a greater risk for Alzheimer's and dementia.
Physical Symptoms of Low Estrogen
The brain and nervous system are not the only parts of a woman that are affected by menopause and lowered estrogen levels. Of course, the reproductive system's ability decreases with age as ovary function and estrogen levels go down. But the skin, heart, bones and urinary systems are also affected.
Dry Everything and Low Sexual Desire
Dry skin, dry eyes and a dry vagina are more signs of menopause and low estrogen levels. These can be allayed with moisturizing fluids, such as lotion, eye drops and lubricant (in that order). Unfortunately, reduced sexual desire comes from decreased estrogen and serotonin levels. Menopause also makes the vaginal walls thinner and they lose elasticity, coupled with vaginal dryness, sex can be painful.
The skin loses its moisture-holding abilities as well as its elasticity, leading to dryness, itching, and an increase in wrinkling and sagging. Also, it becomes more susceptible to injury, such as bruising, due to thinning of the skin and it doesn't heal as quickly. Researchers are beginning to study the lack of estrogen as a possible connection to melanoma, a serious type of skin cancer.
The Heart Connection
As women get older, they become more vulnerable to cardiovascular issues, such as heart attacks, strokes, or other heart-related problems. Hypertension, or high blood pressure is the biggest cardiovascular risk for women in and after menopause. Normally estrogen increases levels of nitric oxide, which is a very powerful dilator of blood vessels, and dilated blood vessels are conducive to healthy blood pressure.
Lowered estrogen levels make hypertension an increasingly bigger factor in women.
Though this may not start until just before perimenopause, it can quickly increase until about age 60, when the new level of blood pressure stabilizes to a new norm.
The Beautiful Bones
After the age of 30, new bone production cannot keep up with bone loss and once menopause hits and estrogen levels decrease, women have an increased risk for low bone mineral density, osteopenia and osteoporosis. This bone density loss can lead to weakening of the bones and an increased risk for fractures and other injuries.
The Urinary System
No laughing matter, incontinence is one of the signs of decreased estrogen levels. Just as with the vaginal walls, the reduced levels of estrogen cause the urethra walls to thin, dry and lose elasticity. This causes the incontinence when coughing, laughing, sneezing or lifting heavy objects. It also leads to feeling the need for frequent urination and an increased risk for developing UTIs.
Weight Gain
Estrogen plays a significant role in weight management and how the body stores fat. During perimenopause and menopause low estrogen contributes to weight gain. Specifically women store more fat in their thighs and hips, which can change during menopause. Eating a healthy diet and exercising regularly can help combat weight gain with low estrogen levels.
Diagnosis and Treatment for Low Estrogen
If any of the above-noted symptoms appear, the first step is to get a physical exam by a trusted physician who can review your medical history and symptoms. It may be necessary to do a blood test to check hormone levels. The doctor may also recommend additional tests to rule out other conditions that might be causing symptoms similar to low estrogen.
Synthetic Hormone Treatment
Hormone Replacement Therapy or HRT is sometimes recommended for women who do not have high blood pressure or other cardiovascular problems. There are various types of HRTs available, including one that combines estrogen with progesterone, a hormone that maintains pregnancy. There are side effects that need to be considered, but these can be discussed with a doctor, to determine which HRT is best.
Sometimes all that is needed are serotonin-boosting antidepressants for those women who end up suffering from depression more than the other symptoms.
Estrogen Therapy
Estrogen therapy is recommended by a doctor or medical expert. In some cases, small amounts of estrogen can be used to combat those who have had small changes in their estrogen levels, such as women who have had their ovaries removed. In other instances, estrogen therapy may be used to treat certain symptoms of perimenopause and menopause.
Natural Treatments
Natural remedies include natural food and soy supplements, maintaining a healthy weight and, in some cases, decreasing the intensity or frequency of exercise. Soy or soybean isoflavones are, at best, an alternative treatment for HRT, and at worst, a controversial treatment with increased risk for breast cancer. It's best to speak to your doctor or healthcare professional before adding this or any supplement to your diet.
Exercise and eating foods rich in calcium and adding vitamin D supplements during and after menopause is a good way to maintain and increase bone density. Low-fat milk, cheese and dairy products, green leafy vegetables like broccoli, cabbage and okra, as well as soybeans and soy products such as tofu, are great for getting the extra calcium needed. It is important to remember that exercise must also be sufficient, but not excessive. Too much exercise and too little body fat can further decrease levels of estrogen.
Estrogen Overview
Reduced estrogen levels can cause many problems for women, including an increased risk of serious conditions, including heart disease, osteoporosis (softening of bone tissue), and obesity. However there are ways to lessen the symptoms and the impact of lower estrogen levels to a woman's overall wellbeing, including her physical, emotional, and sexual health.
The sooner a woman can be screened for low estrogen levels, the better chance she has at combatting the negative effects listed above. AZGYN's Gynecology Services and Minimally Invasive Procedures can be the solution for many women. They provide an assortment of general health practices and specialized services by expert staff and surgeons.
If you are a woman and suspect you have low estrogen levels, contact us for help today.
Founder and Medical Director of ARIZONA GYNECOLOGY CONSULTANTS
Dr. Kelly Roy is a specialist in surgical gynecology and advanced laparoscopy (and hysteroscopy). She is a long-time resident of Arizona and obtained her Bachelor of Science degree in Biomedical Engineering at Arizona State University before finishing her Doctorate of Medicine at the University of Arizona in 1997.
Dr. Roy completed her residency in Obstetrics and Gynecology at the then "Banner Good Samaritan Hospital" (now Banner University Medical Center), in Phoenix Arizona in 2001.
Well known for her teaching and surgical ability, she is on the faculty at the residency program at both Banner University Medical Center and Saint Joseph's Hospital in central Phoenix and is a Clinical Assistant Professor of Medicine at the University of Arizona College of Medicine, Phoenix Campus. Dr. Roy has taught advanced surgical techniques to medical students, residents, fellows and colleagues for over 15 years.
Dr. Roy is also a consultant to the medical device industry and has participated in the design and clinical testing of many instruments and surgical devices available on the world-wide market today.
Read More About Dr. Kelly Roy, MD   |   WebMD Profile   |   Health.USNews.com Profile |  Current Obstetrics and Gynecology Reports: TFA with the Sonata System