Many women think of the winter as the time to start preparing for swimsuit season in the coming summer, but should looking good in swimwear be the main goal of a new fitness routine? Instead of focusing on looking better in a swimsuit this year, try making a few significant changes that improve your overall health, not just the way you look. In time, making these positive changes will have an undeniably positive effect on your overall health and wellness.
Choosing Wellness Over Aesthetics
Everyone faces tremendous social pressure to look as good as possible. Modern marketing leans toward showcasing models with "aspirational" body types, the type that usually demand hyper-dedicated focus to nutrition and exercise. The average person cannot commit hours each day to looking as good as possible, so focusing health and exercise goals around aesthetics is ultimately self-defeating. However, a few small but important lifestyle changes can have tremendous results that lead to looking and feeling great.
Overcoming Social Pressures For Swimsuit Season
Advertisements constantly bombard the average American from all directions. It can be difficult for some people to recognize unrealistic beauty standards, and overcoming social pressure to look as good as possible can be significantly more challenging for some women than for others. Whenever you decide to make better decisions for yourself, you should aim to improve yourself, not just to earn the admiration of others.
While role models and fitness ambitions can be good motivational tools, they may also lead to self-esteem issues. Avoid trying to model your looks around those of celebrities or fitness models who likely have expensive dietary counselors and personal trainers to help them stay in picture-perfect shape. Instead, look for personal motivations that are meaningful to you, such as being able to keep up with your kids while you chase them around the beach this summer.
Avoiding Unhealthy Fat-Burning Gimmicks And Fad Diets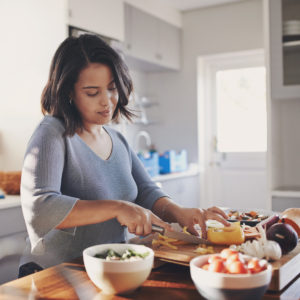 There have been countless fad diets to come and go throughout the years. There are also thousands of supplements on the market that proclaim to boost your metabolism and burn fat with minimal effort. Be wary of these fads and gimmicks. While some fast fat-burning methods may offer seemingly good results in a short window of time, these methods are rarely healthy and more often than not cause more problems than they solve.
Despite the dangers of some trendy diets, others have gained traction due to their objective health benefits and consistent results. For example, the ketogenic diet (also called the "meat and greens" diet or keto diet) essentially requires avoiding carbohydrates and sugars and eating a diet high in animal proteins and leafy vegetables. The keto diet places the body into ketosis*, or the state of burning fat stores for energy instead of deriving it from ingested carbohydrates. This is just one example of a popular diet that is actually worth investigating, and it is flexible enough to meet various dietary restrictions like food allergies or gluten sensitivity.
Balanced Nutrition Is Crucial For Weight Loss
Exercise is a crucial component of any weight loss plan, but nutrition is even more important. Proper nutrition helps the body function better overall. Many Americans do not get the recommended amounts of essential vitamins and minerals from their daily diet, and no amount of exercise can replace these deficits. Vitamin deficiency can lead to increased susceptibility to muscle overextension or soft tissue injuries.
Cultivate Better Eating Habits
Start your summer fitness plan with a thorough review of your current daily diet. The vast majority of Americans do not eat enough fruits and vegetables each day, so consider this a good starting point. For one month, try to add one full serving of vegetables to your daily food intake. The next month, add one more. Within a few months you may notice you have adopted an entirely new eating pattern, and you should start seeing positive results sooner than you might expect.
Drinking more water is also essential to a healthy body. Nutritionists recommend 8 glasses of water every day to maintain your health. With exercising, more may be necessary to stay hydrated. Also, drink water more often to keep from unintentional snacking. You might be actually be thirsty and think its hunger. A few sips an hour should do the trick.
Creating better eating habits does not just mean knowing which foods to add to your diet but also which foods you should avoid. Try to limit alcohol consumption as much as possible and refrain from eating too many fatty, fried, or processed foods. Always opt for lean protein whenever possible and choose fresh vegetables over frozen varieties.
Expand Your Exercise Routine
Starting an exercise routine is relatively easy and can even be fun, but sticking to that routine can be a challenge. If you are committed to improving your overall health and fitness this year but find yourself dreading the next trip to the gym, consider an alternative to your usual workout routine. Instead of running on a treadmill, look for a local park or hiking trail for a new challenge. Look for community sports leagues and try out for a team. Arrange nightly bike rides with your kids. These are just a few examples of great ways to stay in shape outside of the gym.
You can also make small changes to your everyday routine. If possible, consider biking to work instead of driving. Take frequent breaks at work to stretch or even do a few desk workouts during your downtime. Whenever possible, opt to take the stairs instead of an elevator or escalator. These small changes mean more burned calories, and creating a daily calorie deficit is the key to losing weight.
A Caution On Calorie Deficits
A calorie deficit means you burn more calories than you consume in a given day. While the average daily calorie intake for most adults is around 2000 calories, it is always best to consult with a doctor about a healthy calorie deficit range. Too much of a calorie deficit can have serious negative health issues like a compromised immune system and diminished internal organ functions.
Ultimately, bucking the trend of social pressure to look good in a bikini is difficult for many women to overcome, but developing personalized health goals that focus on wellness over outward appearance is ultimately the better choice for any fitness plan this year.
Founder and Medical Director of ARIZONA GYNECOLOGY CONSULTANTS
Dr. Kelly Roy is a specialist in surgical gynecology and advanced laparoscopy (and hysteroscopy). She is a long-time resident of Arizona and obtained her Bachelor of Science degree in Biomedical Engineering at Arizona State University before finishing her Doctorate of Medicine at the University of Arizona in 1997.
Dr. Roy completed her residency in Obstetrics and Gynecology at the then "Banner Good Samaritan Hospital" (now Banner University Medical Center), in Phoenix Arizona in 2001.
Well known for her teaching and surgical ability, she is on the faculty at the residency program at both Banner University Medical Center and Saint Joseph's Hospital in central Phoenix and is a Clinical Assistant Professor of Medicine at the University of Arizona College of Medicine, Phoenix Campus. Dr. Roy has taught advanced surgical techniques to medical students, residents, fellows and colleagues for over 15 years.
Dr. Roy is also a consultant to the medical device industry and has participated in the design and clinical testing of many instruments and surgical devices available on the world-wide market today.
Read More About Dr. Kelly Roy, MD   |   WebMD Profile   |   Health.USNews.com Profile |  Current Obstetrics and Gynecology Reports: TFA with the Sonata System