Irregular periods? Could it be due to PCOS?
Polycystic ovarian syndrome (PCOS) is one of the most common hormonal disorders among women of reproductive age. PCOS affects 5 million women in the United States, which is about 1 in 10 women (CDC, 2020). Menstrual disorders are defined as absent periods, heavy periods, unpredictable periods, or periods that occur infrequently or too frequently. A woman who is not on any hormonal birth control, should have their period about every four weeks.
What is PCOS?
PCOS is a hormonal imbalance where your ovaries produce an abnormal amount of androgens or male sex hormones. Women with PCOS have increased levels of testosterone, multiple follicles on the ovaries, and/or irregular periods. PCOS signs and symptoms include irregular menstrual cycles, excessive body or facial hair, hair loss, acne, obesity, infertility, insulin resistance, and polycystic ovaries.
PCOS affects all areas of the body, not just the reproductive system. Due to the hormone imbalance, 70% of women will have insulin resistance that can lead to obesity (NIH, 2016). Obesity places a woman at risk for metabolic syndrome, diabetes mellitus, sleep apnea, high cholesterol, fatty liver disease, and cardiovascular disease. Some women with PCOS develop a condition called endometrial hyperplasia, where the lining of the uterus becomes too thick. This condition is due to not shedding the endometrium and increases the risk of endometrial cancer. It is important that a woman with these symptoms schedule with their gynecologist to discuss likely causes and treatment.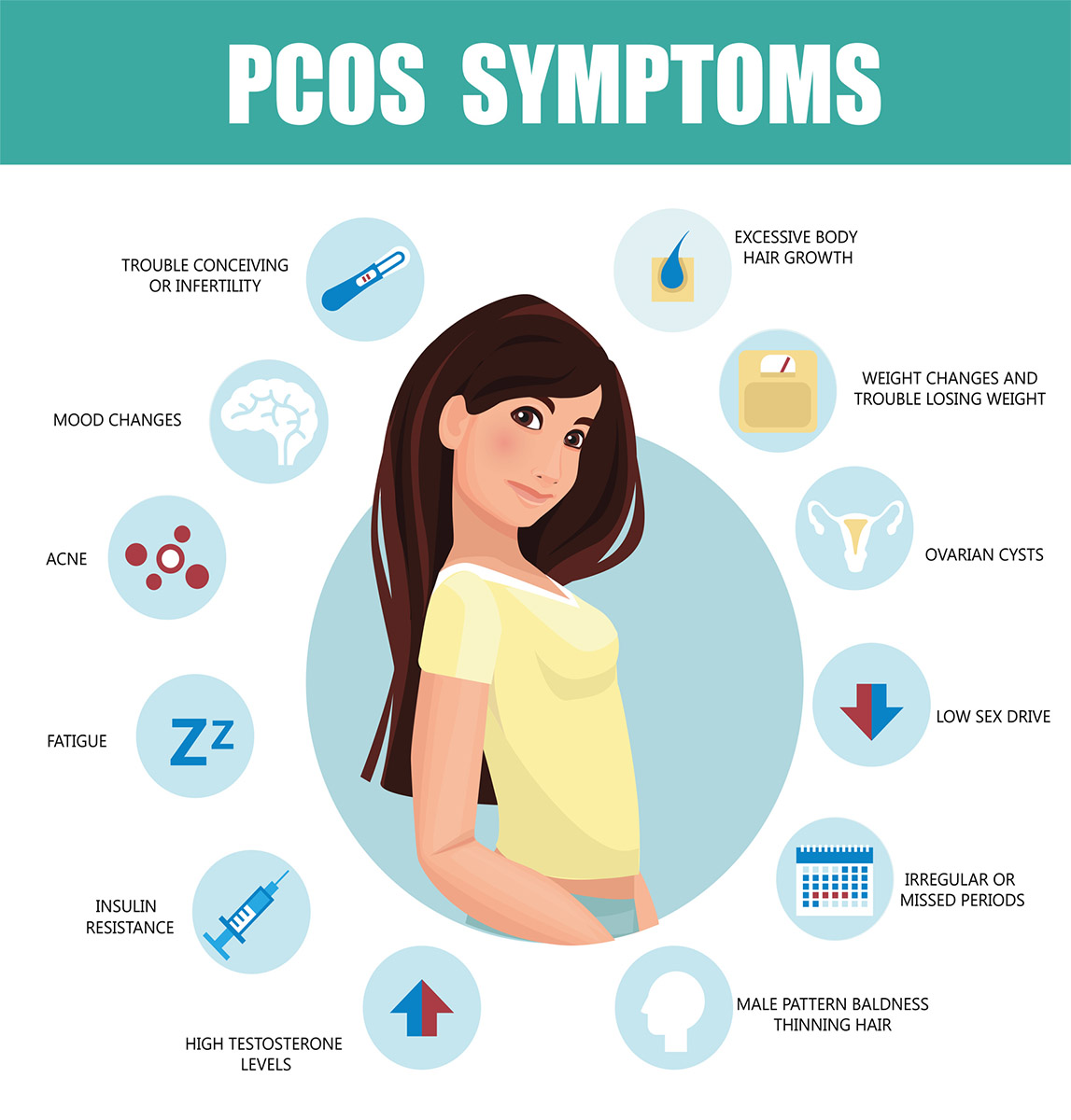 How is it diagnosed?
Your provider will take a detailed history on your periods, symptoms, physical signs, check labs, and sometimes order a pelvic ultrasound. To diagnose PCOS, clinicians use the Rotterdam criteria. This criteria is met by having 2 out of 3 of the following; increased levels of androgens or signs such as facial hair, acne, or male pattern hair loss, irregular or absent periods, or having polycystic appearing ovaries on pelvic ultrasound.
What is the treatment?
There are a variety of treatment options to help manage PCOS. Your provider will tailor the specific treatment options to your goals, health concerns, and whether you want to become pregnant. PCOS is most commonly treated using combined oral birth control with progestin and estrogen. The consistent balance of hormones in your body will help regulate the menstrual cycle and lower androgen levels. In combination with birth control pills or used separately are insulin sensitizing medications such as Metformin. These medications help the body respond to insulin, lower glucose levels, regulate weight, decrease androgens, and establish normal menses.
Lifestyle modifications play a vital role in managing PCOS as well! Maintaining a low carbohydrate and low sugar diet has been shown to balance hormones and periods. Due to the known insulin resistance with PCOS, patients should eliminate carbohydrates such as pasta, bread, tortillas, potatoes, cereal, bagels, rice, etc. Healthy replacement foods include spaghetti squash, cauliflower, quinoa, mixed vegetables, or zucchini slices. Low carbohydrate options are eggs, turkey, fish, salads, mixed nuts, protein bars, yogurt, cheese, etc. Our providers provide a weight loss program that includes nutrition, exercise, and medication management! We suggest a maximum of 25 grams of carbohydrates a day and less than 25 grams of sugar a day.
Want to learn more about PCOS?
The providers at Arizona Gynecology Consultants are trained and knowledgeable on PCOS diagnosis, treatment, and helping each patient reach their goals. PCOS is more complex than having irregular periods, as studies show it also affects many aspects of your metabolism and long-term health.
---
References
Nurse Practitioner

Ashley is a board certified Nurse Practitioner who is excited to follow her passion back into women's health. She has five years of experience as a Nurse Practitioner in family medicine, as well as, five years of bedside experience in high risk labor and delivery.
Ashley is a native of Illinois, but moved to Arizona in 2015 to accelerate her nursing career. She achieved her Bachelor's of Science in Nursing from Clarke University in Dubuque, Iowa where she also played volleyball. While working as a nurse in 2017 at Banner University Medical Center, she completed her Master's of Science in Nursing at Chamberlain College of Nursing.