Heart disease is the leading cause of death for women. In fact, it accounts for 1 in every 5 female deaths.[1]January 31, 2021. Women and Heart Disease. Centers for Disease Control and Prevention. https://www.cdc.gov/heartdisease/women.htm This number is shocking to many women, as it is often perceived as more of a "man's disease." However, it is vitally important that women understand the risks they face. This is especially critical for women of color, as they are disproportionately affected by the disease.
The increasing impact of heart disease on women is picking up awareness. It's what inspired the launch of Wear Red Day back in 2003 on the first Friday in February. The goal was to raise awareness for this disease that is largely preventable and treatable, yet still taken too lightly. Wear Red Day continues to be an essential awareness movement in the fight against heart disease for women worldwide. While the risks of heart disease can be discouraging, women can take proactive steps to protect their health by understanding the risk factors and symptoms of heart disease.
What Is Heart Disease?
Heart disease is a broad umbrella term that refers to any disorder of the heart or blood vessels. It can include problems with the heart muscle, valves, heart rhythm, or coronary arteries. The most common type of heart disease is coronary artery disease (CAD), which may lead to a heart attack.
In a healthy heart, the arteries are clear and unobstructed. These blood vessels supply oxygen-rich blood to your heart muscle by carrying it from your lungs to the heart. In people with CAD, cholesterol can build up on the walls of these arteries and form a substance called plaque. This build-up of unnecessary plaque is known as atherosclerosis, and it narrows the coronary arteries. As a result, blood doesn't flow as freely to the heart, and the risk for a heart attack increases.
What Are Common Symptoms of Heart Disease?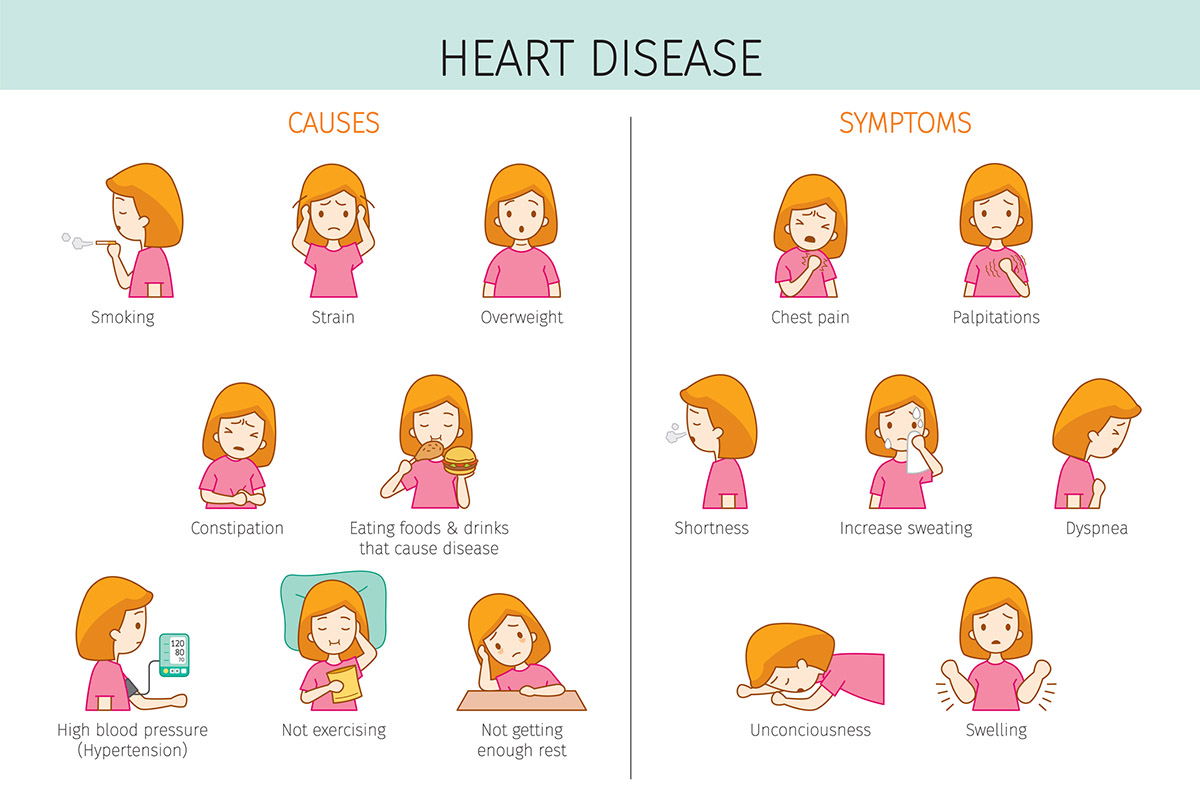 A few common signs can indicate you may have heart disease.[2]Fang, J., Luncheon, C., Ayala, C., Odom, E., & Loustalot, F. (2019). Awareness of Heart Attack Symptoms and Response Among Adults – United States, 2008, 2014, and 2017. MMWR. Morbidity and … Continue reading 
These symptoms can include:
Heart attack. Chest pain, shortness of breath, nausea, and lightheadedness are a few signs that you may be having a heart attack. Individuals who have a heart attack, or multiple attacks, should be checked out to see if they may have heart disease.
Arrhythmia. An arrhythmia is an abnormal heart rhythm. This can cause your heart to beat too fast, too slow, or irregularly. Symptoms of an arrhythmia can include a fluttering feeling of palpitations.
Heart failure. This occurs when your heart can't pump enough blood to meet the body's needs. Symptoms of heart failure include shortness of breath, fatigue, and swelling in the legs and feet.
What Are Some Risk Factors for Heart Disease?
Various factors can increase your risk for heart disease.[3]Hajar R. (2017). Risk Factors for Coronary Artery Disease: Historical Perspectives. Heart views : the official journal of the Gulf Heart Association, 18(3), 109–114. … Continue reading 
Some of these include:
Smoking. Cigarette smoking is the leading cause of preventable death in the United States. Smoking increases your risk for heart disease, stroke, and lung cancer.
High blood pressure. Blood pressure is the force of blood against the walls of the arteries. It can damage your heart and blood vessels over time if it is too high.
High cholesterol. Cholesterol is a type of fat that is found in the blood. Too much cholesterol can build up on the walls of your arteries and form plaque.
Diabetes. With diabetes, the body isn't able to correctly produce or use insulin. The hormone insulin helps the body convert sugar, starches, and other food into energy. People with diabetes are at a higher risk for heart disease.
Obesity. Obesity is a condition in which you have a BMI of 30 or more. A high BMI can significantly increase your risk for heart disease, type II diabetes, and other health issues.
Lack of exercise. Regular physical activity can help lower your blood pressure, cholesterol, and other risk factors for heart disease.
High stress levels. Stress can increase the risk of heart disease. It can also worsen other symptoms of heart disease, such as angina and arrhythmias.
How Does Heart Disease Affect Women Differently?
Many people ask, "why is heart disease higher in women, and how does it affect them differently?" Women and men often experience different symptoms of heart disease. This can make the condition more difficult to detect in women.
Some of these differences include:
Heart disease occurs in different arteries for men and women. In women, heart disease often occurs in the smaller arteries that can be difficult to see, while men are more likely to have blockages in the larger coronary arteries on the surface of the heart.
Women have a higher chance of dying from heart disease than men. It can be more difficult to detect or treat because women have heart disease in the smaller arteries. This leads to more fatal outcomes for women than men.
The difference in hormones. Once a woman has advanced through menopause, a notable shift in hormones makes women more susceptible to heart disease. Estrogen is no longer produced, increasing the risk of high blood pressure and other cardiovascular conditions.
The impact of diabetes. Interestingly, women with diabetes are more likely to develop heart disease than men with diabetes. Being a diabetic woman can erase any previous advantages in heart health. However, this can be mitigated through natural and medical interventions.
The impact of smoking. Smoking has more negative effects on women than men. For example, women who smoke are more likely to have a heart attack than their male counterparts. These differences in symptoms and risk factors can make it more difficult for women to identify or treat heart disease.[4]Keteepe-Arachi, T., & Sharma, S. (2017). Cardiovascular Disease in Women: Understanding Symptoms and Risk Factors. European cardiology, 12(1), 10–13.

https://doi.org/10.15420/ecr.2016:32:1
The question "are females at a higher risk for heart disease?" is an absolute yes. This is why it's important for women to be aware of the signs and symptoms of heart disease and know their risk factors. If you are experiencing any of these symptoms, don't hesitate to speak with your doctor.
How Does a Woman Know If She Has Heart Problems?
There are a few different ways that a woman can find out if she has heart disease.
These include:
Heart health screenings. Most heart health screenings include blood pressure, cholesterol, and glucose tests. This can help identify risk factors for heart disease. Consistently monitoring these numbers can help you catch any problems to combat with treatment early on. This can also be addressed in your annual women's wellness exam.
Stress tests. These tests can measure how well your heart works during physical activity. How it's done depends on the type of stress test you are having. Some stress tests include walking on a treadmill or riding a stationary bike.
Echocardiograms. This ultrasound of the heart can show how well your heart is working and identify any problems. They are conducted by a cardiologist and are non-invasive.
Electrocardiograms. This is a test that records the electrical activity of your heart. It can help identify any abnormal rhythms occurring that may signal heart disease.
If you are concerned about your heart health, be sure to talk to your doctor. They can help identify any symptoms or risk factors for heart disease and get you started on a treatment plan.
What Is the Most Common Age for a Woman to Have a Heart Attack?
After 55 years of age, women are more likely to have a heart attack than at any other point in their lives.[5]Woodward M. (2019). Cardiovascular Disease and the Female Disadvantage. International journal of environmental research and public health, 16(7), 1165. https://doi.org/10.3390/ijerph16071165 This is due to the fact that women's risk factors for heart disease increase as they age. Additionally, many women do not realize they are at risk for heart disease until it's too late.
What Can Women Do to Reduce Their Risk of Heart Disease?
There are a few things that women can do to reduce their risk of heart disease.[6]Saeed, A., Kampangkaew, J., & Nambi, V. (2017). Prevention of Cardiovascular Disease in Women. Methodist DeBakey cardiovascular journal, 13(4), 185–192. https://doi.org/10.14797/mdcj-13-4-185 
These include:
Limiting your intake of saturated and trans fats. Both fats are known to increase the risk of heart disease due to their effects on cholesterol levels. They are found in everyday foods such as processed meats, fast food, and baked goods. By limiting your intake of these foods, you can reduce your risk for heart disease.
Eating more fruits and vegetables. These foods are high in antioxidants and other nutrients that can protect your heart. They also contain fiber, which can help reduce cholesterol levels. Ensuring that you are getting the recommended five servings of fruits and vegetables each day can make a difference in your overall heart health.
Exercising. Committing to a regular exercise regimen has been shown to reduce the risk of heart disease. Exercising also has many other health benefits, such as reducing stress levels and improving sleep. Staying active can also reduce your risk of obesity and diabetes, which are associated with an increased risk for heart disease.
Maintaining a healthy weight. Obesity is a major risk factor for heart disease and can significantly increase your heart attack chances. Additionally, obesity can increase the likelihood of developing other conditions like hypertension and type II diabetes.
Quitting smoking. Smoking can increase your risk of heart disease due to its damage to your arteries. It also increases your risk for other conditions such as lung cancer and stroke. Quitting smoking can be difficult, but it's important to try. You can speak with your doctor about the best way for you to quit smoking.
Limiting alcohol. Drinking too much alcohol can damage your heart. It can also increase your blood pressure and lead to weight gain, which are risk factors for heart disease. Limiting your alcohol intake to one drink per day can help reduce your risk for heart disease, and it's even better to go days without drinking if you can.
Reducing stress. Stress can trigger a heart attack or worsen your symptoms if you already have heart disease. Taking time to relax and unwind is vital for your overall health. If this is something that you struggle with, talk to your doctor about healthy techniques or resources to help you reduce your stress levels.
Knowing your family history. If you have a family history of heart disease, be sure to share this information with your doctor. They can help identify any symptoms or risk factors you may have and advise you on how to reduce your risk. Having this information will keep a physician more keenly aware of your health, specific to your genetic predispositions.
Talk to your doctor about other ways to reduce your risk of heart disease. They may recommend lowering your blood pressure and cholesterol levels by making lifestyle changes or taking medication. They may also recommend getting a flu shot or pneumonia vaccine to reduce your risk for complications from other conditions that can affect your heart.
Take Control Today: Women's Fight Against Heart Disease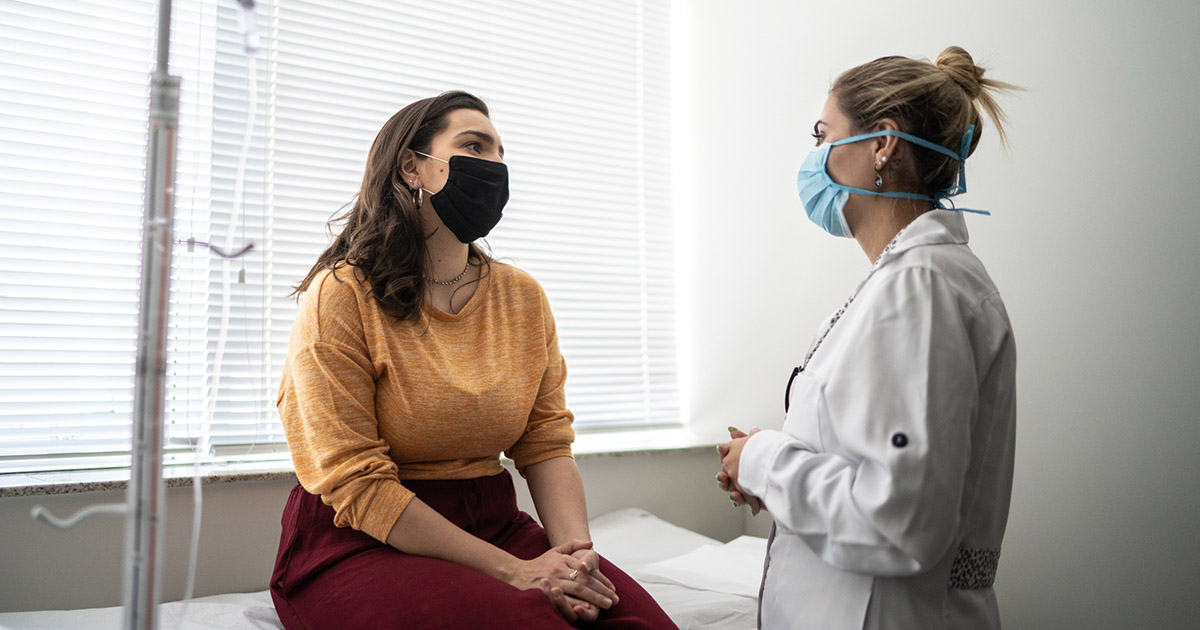 Heart disease is a serious condition that can have life-threatening consequences. To reduce your risk, it's important to make healthy lifestyle choices and be aware of your heart's current state. Women across the globe are fighting against this disease every day, but we're not alone.
Make heart health part of a healthier lifestyle. As part, schedule regular exams and develop a narrative with your doctor about your health concerns, needs, and aspirations.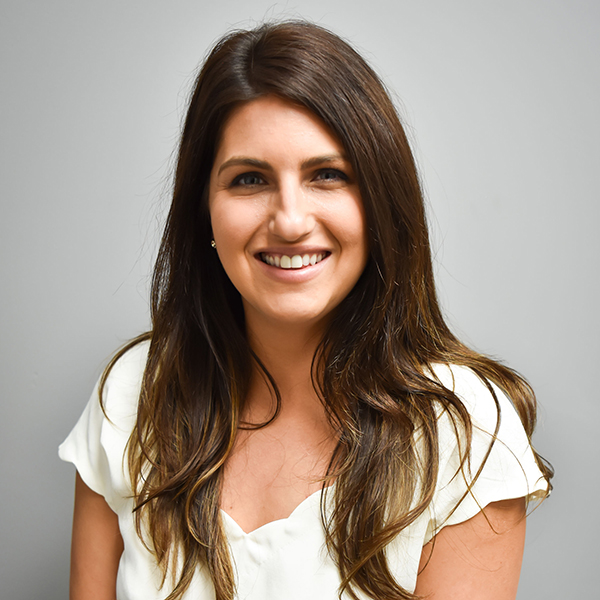 Nurse Practitioner

A native of Michigan, she received her Bachelor of Science in Nursing from Oakland University and a Master's of Science in Nursing from the University of Michigan. She started her career working in a step-down cardiac unit then discovered her enthusiasm for women's health care after transferring to a labor and delivery and postpartum nurse.
Jennifer has always been passionate about promoting health and wellness for women at all stages of life. She loves educating others and has a special interest in contraception management, wellness and nutrition as well as weight loss.
Jennifer loves to spend time outdoors paddle boarding or hiking with her significant other and their adorable Boston Terrier, Tucker. She loves to travel and has been to places as remote as Iceland, and additionally has visited five states while working as a traveling nurse. Jennifer enjoys various podcasts and feels it is important to continuously learn and grow both personally and professionally.
References

↑

1
January 31, 2021. Women and Heart Disease. Centers for Disease Control and Prevention.

https://www.cdc.gov/heartdisease/women.htm

↑

2
Fang, J., Luncheon, C., Ayala, C., Odom, E., & Loustalot, F. (2019). Awareness of Heart Attack Symptoms and Response Among Adults – United States, 2008, 2014, and 2017. MMWR. Morbidity and mortality weekly report, 68(5), 101–106.

https://doi.org/10.15585/mmwr.mm6805a2

↑

3
Hajar R. (2017). Risk Factors for Coronary Artery Disease: Historical Perspectives. Heart views : the official journal of the Gulf Heart Association, 18(3), 109–114.

https://doi.org/10.4103/HEARTVIEWS.HEARTVIEWS_106_17

↑

4
Keteepe-Arachi, T., & Sharma, S. (2017). Cardiovascular Disease in Women: Understanding Symptoms and Risk Factors. European cardiology, 12(1), 10–13.

https://doi.org/10.15420/ecr.2016:32:1

↑

5
Woodward M. (2019). Cardiovascular Disease and the Female Disadvantage. International journal of environmental research and public health, 16(7), 1165.

https://doi.org/10.3390/ijerph16071165

↑

6
Saeed, A., Kampangkaew, J., & Nambi, V. (2017). Prevention of Cardiovascular Disease in Women. Methodist DeBakey cardiovascular journal, 13(4), 185–192.

https://doi.org/10.14797/mdcj-13-4-185