Holidays and poor food choices always seem to go hand-in-hand. Holidays mean huge family gatherings, baking cookies, and indulging in the things we promise to swear off of at the start of the New Year. Holidays should be enjoyed, but that doesn't mean we have to set ourselves up for weight gain. On average, many individuals will gain about two pounds between Thanksgiving and the New Year.
This by itself isn't a huge problem. The problem starts when the majority of people who do gain a pound or two won't lose it before the next year. Year after year of added weight can take a toll on your body. Several holiday food alternatives will allow you to still enjoy the season while being mindful of your health.
Healthy Holiday Alternatives
Finding healthy holiday foods doesn't have to be difficult or time-consuming. By being mindful and considering a few basic swaps, you'll be able to cut your caloric and carb intake down with ease. Swapping is the best way to still enjoy what you normally would, by making slight changes to lower the calorie and carb count. One of the best aspects of swapping is that most swaps are unnoticeable and don't require extra work. When it comes to holiday food alternatives, there are several great options for appetizers, sides, main dishes, desserts, and even holiday drinks!
Appetizers
The holidays are full of get-togethers that involve food. Most gatherings will offer appetizers to graze on while waiting for the main meal. Appetizers are an area where being mindful of your choices is key. Portion control can be challenging because it can be difficult to keep track of. You tell yourself you'll just have one cocktail weenie and before you know it you've had eight. Appetizers can often be fried or made with fatty, carb loaded foods. Luckily, there are plenty of amazing appetizers that still hit the spot without risking weight gain.
Dips
Dips are a staple when it comes to the appetizer table. When trying to create healthy holiday alternatives, replacing those full-fat dips with lower-fat options is a game-changer. Instead of eating a dip created through cheese, cream cheese, or sour cream, choose a healthier option such as yogurt or fat-free sour cream.
Yogurt is a fantastic swap for full-fat dip options. You can either use low-fat yogurt or nonfat plain Greek yogurt. The best part about this swap is that no one will be able to tell. Hummus is another fantastic dipping alternative. It is already a crowd favorite and it is available in a wide variety of flavors. Instead of chips, offer easy-to-dip veggies or chip substitutes made with vegetables or beans.
Shrimp Cocktail
Shrimp is a great protein-packed option for an appetizer. It is a quick option that requires little prep. Pair it with a spicy cocktail sauce and you have a fantastic healthy option. If you wanted to elevate this option further, shrimp and vegetable skewers are a great way to elevate a simple appetizer while still keeping it healthy.
Meat and Cheese
Everyone loves a good charcuterie board, but calories from meat and cheese can add up quickly. Consider cutting back on the meat and cheese, and if you do have it, consider turkey pepperoni or other lower-calorie meat options. Instead of full-fat cheeses, consider offering lower-calorie cheese options as well. And, what charcuterie board would be complete without some pickled vegetables and fresh fruits? By filling up on some fruits and veggies along with your meats and cheeses, you'll reduce your calories quite a bit.
Healthy Holiday Side Dish Hacks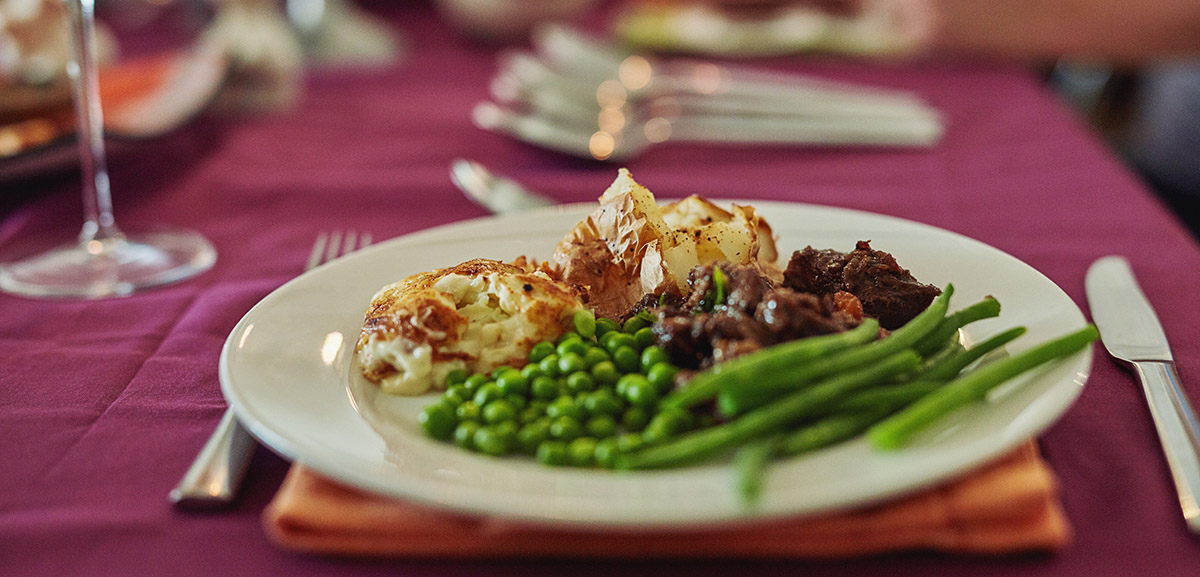 Protein may be the star of many holiday meals, but it is often the side dishes that people can't stop talking about. Healthy holiday alternatives are plentiful when it comes to your sides. Being mindful of your portion sizes is one way to ensure that you are sticking to the healthier side of things. When possible, load up on vegetables first, keeping the starches at bay. Outside of portion control, several helpful swaps allow you to still enjoy your favorite holiday side dishes.
Green Bean Casserole
For many, it would be impossible to picture Thanksgiving dinner without green bean casserole. There are several options when looking to be healthier. One easy step would be to increase the number of green beans used while decreasing the use of the filler ingredients. You can swap to low-sodium soup and use skim milk instead of evaporated milk. Another option would be to make a green bean almondine instead of a traditional green bean casserole. This option lowers your intake of saturated fat while adding more heart-healthy fats through the almonds.
Mac and Cheese
Mac and cheese is an American staple and continues to find its way onto more and more holiday tables. There are plenty of great options to make this indulgence healthy while still delicious. You can replace regular pasta with vegetable or bean-based noodles for a healthier, lower carb take. These noodles have grown in popularity over the years, and you can usually find a wide variety of options in your local store's pasta aisle. You can also use low-fat cheese or skip the cheese and use turmeric and nutritional yeast. These swaps are great because they decrease fat intake while increasing fiber intake.
Mashed Potatoes
Potatoes are a staple side dish for many families. To create a healthy holiday alternative, you can replace your potato with mashed cauliflower. If you're unsure about fully committing to cauliflower, you can also mix 2-3 heads of cauliflower with your potatoes. Either way, you are providing a healthier alternative that won't sacrifice in taste or consistency, especially with gravy.
Cauliflower has a lower caloric and carbohydrate content than potato, and it has more vitamins and minerals. For this reason, cauliflower has become a very popular food for both dieters hoping to cut calories, as well as those on low-carb specific diets, such as Paleo.
Here's a side-by-side comparison of cooked cauliflower versus potatoes: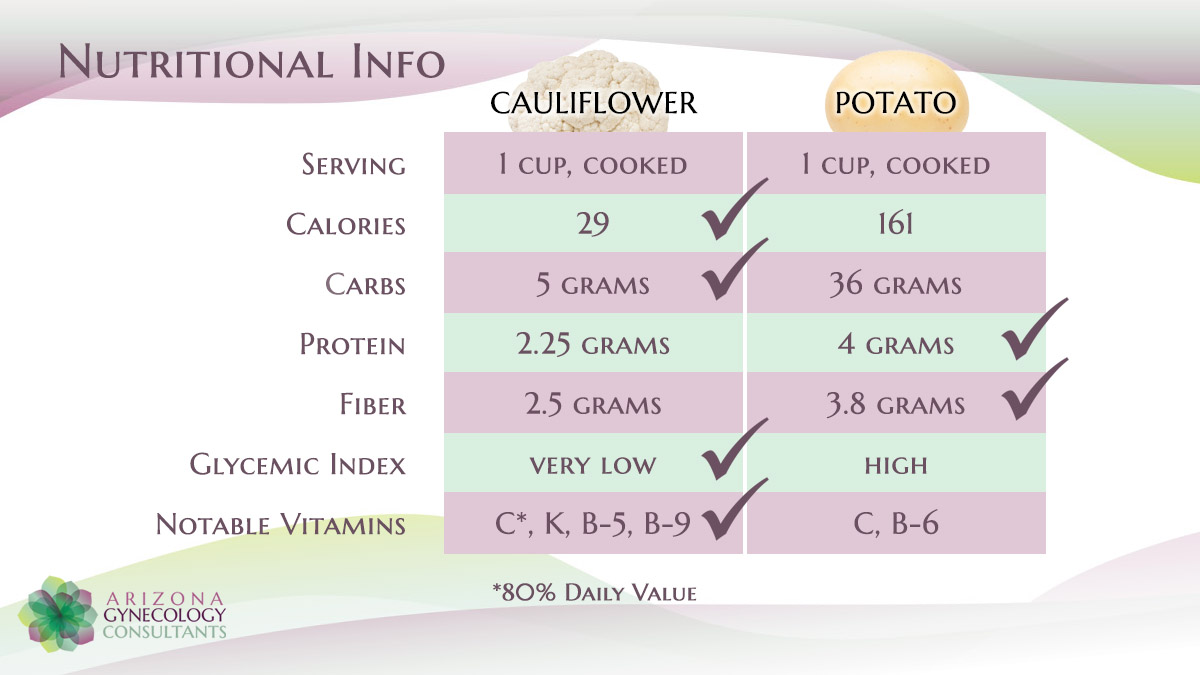 Gravy
Some basic swaps can make traditional gravy options healthier. This includes using fat-free turkey broth with flour and seasoning. If you like to use the drippings to make your gravy, remove the fat first. This can be done by using a separator cup or placing the drippings in the freezer for 10-15 minutes. This allows the drippings to cool enough that the fat separates and can be skimmed off of the top. Another option that isn't often considered but is amazingly delicious is swapping out gravy entirely for an herb pesto. It will have fewer calories, less fat, less carbs and an addition of potassium and calcium.
Sweet Potatoes
On their own, sweet potatoes are an excellent healthy addition to Thanksgiving dinner for anyone who isn't watching their carb intake. The problem comes from many holiday recipes that also include sweet potato casserole topped with marshmallows, brown sugar, white sugar, and loads of butter. One great alternative is just choosing one of these tasty toppings instead of all of them. Another option is keeping the skin on the sweet potato as you cook it, topping it off with a cinnamon dusting.
Keep in mind, however, one five-inch sweet potato has about 26 grams of carbohydrates. In a low-carb diet, that's about half of the calories from carbohydrates that you may be allowed for the whole day. So, unless you really love  sweet potatoes, they're probably worth skipping if you are on a low-carb diet.
Meats
When it comes to your holiday proteins, you'll want to consider your healthier alternatives. When it comes to turkey, opt for the roasted and not the deep-fried. Choose lighter meat instead of dark to reduce your consumption of fat. In general, your serving of protein shouldn't be larger than the palm of your hand. Portion control can be beneficial when it comes to the wide variety of meat options you may face over the holidays.
Making Holiday Desserts Healthier
Desserts play a large role in the holidays. Pies, cookies, and other confections are an anticipated conclusion to a great holiday meal. When it comes to keeping it healthy, it is possible. It will help to be mindful of portion sizes as well as what options you choose. Small swaps like pumpkin pie instead of pecan pie can make a huge difference. Trying to go low carb? You could also skip the crust and just bake the fruit. You can experiment with the baked fruit, adding cinnamon and nutmeg to recreate the perfect pie without the crust.
Frozen grapes are an amazing sweet treat that is also a natural source of antioxidants. You can even toss the grapes in a bag with some lime juice and flavored sugar substitute for an elevated treat everyone will love. If you have a weak spot for chocolate, dark chocolate is a healthier alternative compared to milk or white chocolate. When it comes to baking, coconut oil is the perfect alternative to butter.
Healthy Holiday Drink Alternatives
Unhealthy drink options can have the same impact on your weight as unhealthy food options. Holiday drinks are often filled with heavy creams, sugars, and syrups. Over the holidays, wine and other alcohol consumption can quickly increase your caloric intake. Even soda and other sugar drinks are consumed in excess through different punches and mocktails. Some of these drinks can pack more of a caloric punch than some desserts.
There are several healthy holiday alternatives for your holiday drinks. For example, traditional hot chocolate can be loaded with fat and excess sugar. Instead, why not try making your own version with an alternative to cow milk, such as almond, rice or coconut. Use raw cacao powder instead of chocolate and stevia instead of sugar for one of the easiest healthy versions of a popular holiday drink.
Eggnog
Regular eggnog can easily total over 250 calories and be made up of half the daily dose of saturated fat we need. Just one cup can contain 20 grams of carbs. There are a few options when it comes to swapping. You could use egg substitute for the regular eggs, fat-free milk instead of whole, and use a sugar substitute in place of sugar. You can still flavor with vanilla and spices. If you use all of these alternatives when making your own eggnog, you can take your carb intake all the way from 20 to 2 per cup!
Skipping the alcohol can quickly drop the calorie and carb intake number down as well. Some companies create eggnog using almond milk and other dairy alternatives. These can be another great option for those who still want to enjoy their eggnog in the cold winter months and can be found in the dairy section of most grocery stores. Hot apple cider is also a great alternative. It is a warm seasonal beverage that brings comfort without heavy caloric intake. Cinnamon tea can also be enjoyed instead, for a fraction of the calories.
Alcoholic Beverages
Alcohol directly adds to sugar intake. To be on the healthiest side of the issue, you could completely substitute with mocktails and sparkling drinks. You can also still enjoy alcohol while being mindful of how much you're actually consuming. Your mixer choice can play a role in the overall calorie count of your drink. Instead of soda or sugary juices, use soda water, diet tonic, or low-sugar juice. Drinking champagne or a hard seltzer can cause you to consume your drink more slowly due to the bubbles. Red wine is filled with healthy antioxidants that are good for your heart. While it should still be enjoyed in moderation, it is a great option for those who would still prefer to enjoy an alcoholic beverage.
Another great tip is having a glass of water between every alcoholic drink. This helps you to keep your calorie intake low as well as keeps you well hydrated.
More Healthy Holiday Low-Carb Ideas
Try a number of low-carb alternatives throughout the holidays. Your eyes can stay filled with the sights of food, but the following dishes won't leave you feeling bloated or guilty.
Go green this holiday season, mixing green apples with celery. Top it with olive oil, mustard, and bleu cheese.
What's a holiday without stuffing? Combine sausage, mushrooms, celery, and onions. Mix with cornbread, sage, and chicken broth.
Roast green beans along with pecans for some texture. If you're looking for a bit of added spice, throw some bacon into the mix.
Some people can't get through the holidays without some seafood. Stuff mushrooms with crab meat, garlic, and oregano.
A lot of soups are off limits for those who don't want to consume the cream that goes along with many soup recipes. But, you can lighten the soup by swapping-out the cream for coconut milk.
Less carbs usually means more meat. Make the meat lovers in your family more than happy by draping pieces of bacon across your traditional oven-baked turkey.
Speaking of meat, there's a lot you can do with pork chops. Throw them in a pan with fresh sage, mushrooms, and coconut oil for a low fat meat alternative.
What about those who have a sweet tooth? Try creating the batter with sugar-free maple syrup. Use almond flour and coconut oil.
Enjoying Healthy Holiday Foods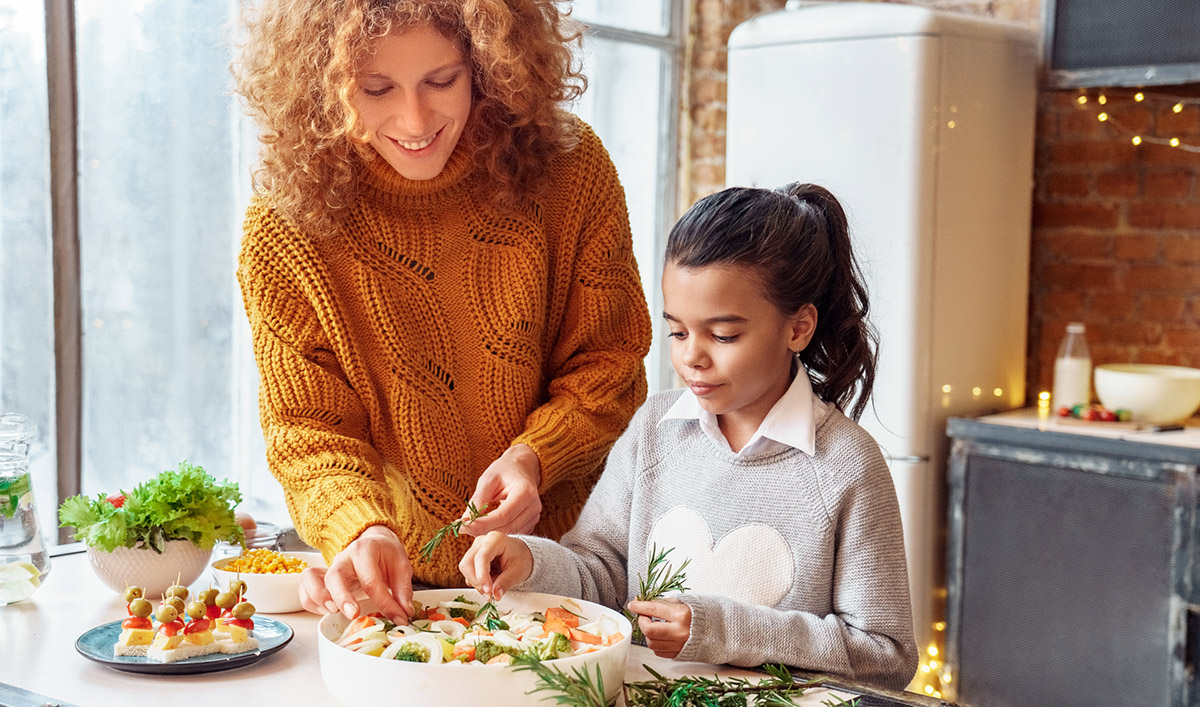 Enjoy the holidays. They are a great chance to get together with friends and family and remind yourself of what matters. Food as part of the holiday celebration isn't going anywhere. What can change is the food options we choose to go with. For any aspect of your holiday meal, there is a healthy alternative that can still be a crowd pleaser and easy to create.
By swapping basic ingredients you can create the same dish in taste and appearance with significantly fewer calories and net carbs. And, remember, exchanging ingredients for healthier options works well for your holiday drink options too! This holiday season, consider starting your New Year's resolutions early by making healthier choices a part of your daily commitment to yourself, even during this celebratory time of year. Your future self will thank you!
Kristina Calligan is a sub-specialty nurse practitioner in Women's Health. A native to Arizona she obtained her Bachelor of Science in nursing in 2006 at Grand Canyon University in Glendale, Arizona. Never one to stop striving and achieving all that she could, she completed two master degrees in Nursing Science and Business Administration in 2012. Ms. Calligan joined Arizona Gynecology Consultants in 2009. Prior to working at Arizona Gynecology Consultants, she worked as a nurse in labor and delivery at several local hospitals and a research coordinator in women's health care.