A lot of questions rise related to a ketogenic diet, especially a keto diet for beginners. If you are looking to find a diet that supports a healthy lifestyle, includes tons of meal options, and allows for long-term consistency with weight loss or maintenance goals, the keto diet can be a great choice. The keto diet (and its variations) is a highly popular way to achieve health goals appealing to athletes and non-athletes alike. However, keto can be a bit intimidating for new adopters. If you are considering adopting the keto diet, we'll help you learn all you need to know about getting started and tips for how to thrive while changing your diet to meet keto standards.
This beginner-friendly guide is great for anyone looking to embark on a keto diet. You'll learn what the diet entails, what foods are sanctioned, and what foods are not. Furthermore, you'll discover how to thrive during the first week of keto, so you can make those first few days easier to manage and your adjustment to the diet less stressful.
What Is the Keto Diet?
The ketogenic or keto diet consists of a very high-fat diet that is also very low in carbohydrates. This combination of low carbs and high fats helps many people shed excess body fat while staving off hunger which is a very common occurrence in other weight loss plans. A ketogenic diet is also great for helping individuals with metabolic syndrome and type 2 diabetes improve their health.
When you eat a ketogenic diet, your body is forced to burn through the fats in your diet to create fuel to power your daily activities. This occurs in place of burning the carbs that are usually used for the process. When you adopt a keto diet, you are essentially telling your body to run on fats instead of sugars. When your body begins to burn fats instead of carbs, you enter a state known as ketosis.
What Is Ketosis?
Ketosis is one of the most important concepts of a ketogenic diet. The metabolic state of ketosis occurs when the liver takes the fats from your diet and metabolizes them into tiny molecules of energy, also called ketones. Ketones are used by the brain and other bodily organs to perform the necessary functions of daily life.
Your body typically prefers to utilize blood sugar or glucose for energy. However, during ketosis, the body pulls the majority of the energy needs from the ketones because your carbohydrate levels are greatly reduced. To reach a state of ketosis, most people must eat 50 or fewer grams of carbohydrates a day. However, the carb intake needed for ketosis varies for each person; for some, the number may be as little as 20 grams of carbohydrates per day.

To induce ketosis, the keto diet encourages the elimination of carbohydrate-dense foods, including:
Legumes
Grains (rice, pasta, cereals, white bread)
Candy
Fruit (small portions of berries are allowed)
Potatoes
Sugar-sweetened soft drinks and other beverages sweetened with sugar
Sugar-sweetened condiments, like barbecue sauce, honey mustard, and ketchup
When followed correctly, the ketogenic diet can be highly beneficial, but it is not an easy lifestyle change for many. To help, we've compiled the following information to assist beginners as they make the necessary steps to transform their eating habits from carb-filled to ketogenic.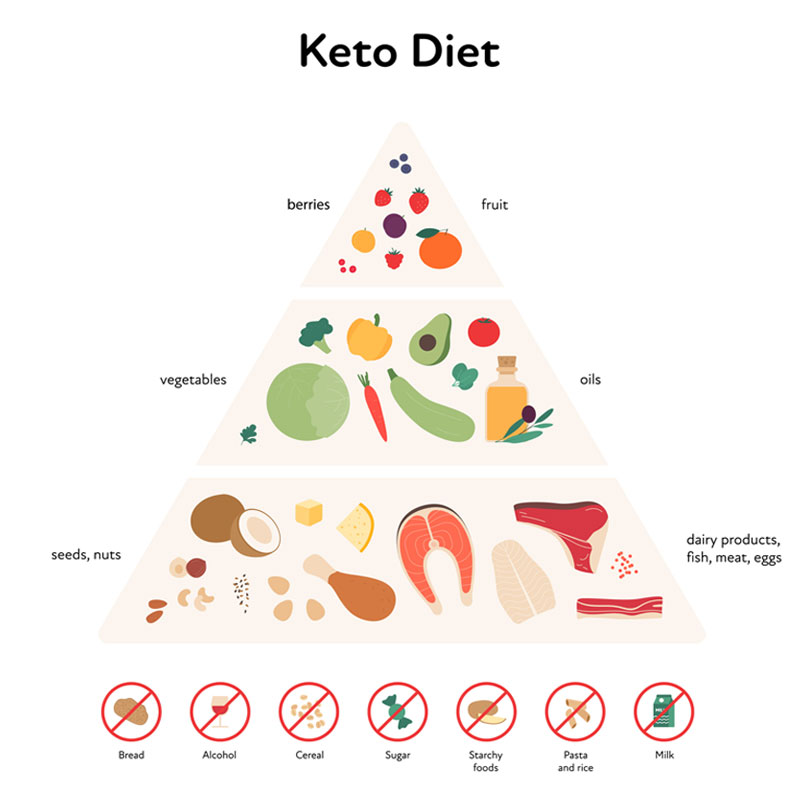 Guidelines: Keto Diet for Beginners
Fats, Carbohydrates, and proteins are known as macronutrients, and each one has a unique effect on the process of ketosis.
This is because these three macronutrients are digested differently and have separate effects on blood glucose levels.
Carbs raise both glucose levels and insulin levels and are considered 100% non-ketogenic. Therefore, carbs must be drastically reduced or eliminated from the daily diet for the body to reach ketosis.
Proteins are both ketogenic and non-ketogenic in composition. Over 50% of protein derived from food is turned into glucose in the bloodstream and raises insulin levels.
Fats are 90% ketogenic and 10% non-ketogenic. This makes fats the optimal choice for a ketogenic diet because non-ketogenic nutrients can be converted from triglycerides and glucose if the brain needs them.
Once you understand the role of each of these macronutrients, you can begin to understand how ketogenic foods work under the basic guidelines of a ketogenic diet.
Below are five basic steps for implementing a keto diet plan that will help you simplify the process as a beginner.
1. Determine the Fitness Goals You Want to Reach
This step is vital no matter what type of diet you are beginning, but it is especially important for a keto diet because the nutrient requirements are fairly strict. The first step you want to take is to identify the personal reasons you believe keto is for you. Defining your why will help you focus on the lifestyle changes involved in moving towards keto. Your why will also help you decide how you will measure your progress to see if your dietary changes are paying off.
2. Calculate Daily Calorie Goals
Once you have determined your primary health goals, your next step is finding out how many calories you need each day to reach your goal of losing, gaining, or maintaining weight. There are several ways to easily calculate your daily caloric needs, including online calculators and fitness and wellness apps. You can also speak to your doctor or a nutritionist to set healthy caloric goals.
3. Calculate Your Macronutrients (Macros)
In addition to setting a target number of daily calories, you must also find your ideal macronutrient consumption amounts, also known as calculating your macros. This will tell you how many grams of protein, fat, and carbohydrates you need to consume to maintain ketosis each day. How many carbs you can have a day on keto will be determined by the type of keto diet you choose and what your body's unique needs require from your diet. It is crucial to maintain your carbohydrate intake each day to reach ketosis.

Being strict with your macros helps you maintain ketosis and reach your goals.
For most people adopting a ketogenic diet, the breakdown of macros is as follows:
70% of daily calories from fat
25% of daily calories from protein sources, and
5% of daily calories from carbohydrates
Your current level of fitness, metabolic health, and other individual factors will determine the exact percentage of macronutrients you should consume.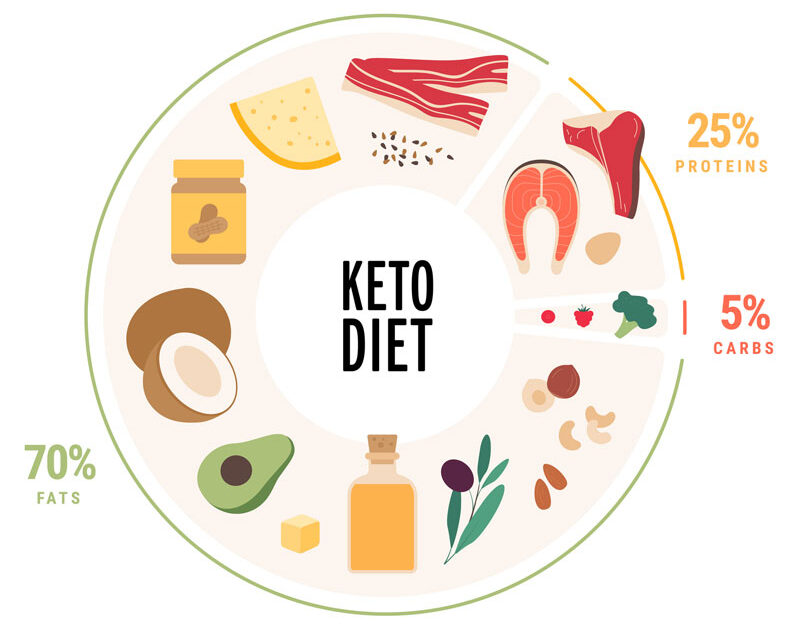 4. Plan Your Menu
Once you know your goals, calculate your daily calories, and determine your daily macronutrients, the next step is planning your menu with low-carb recipes. Before you start piling on heavy foods like cheese and bacon, take into consideration the quality of the high-fat foods you will consume on keto.
You must think about your overall health and incorporate nutritious foods that will also help you meet your daily intake needs. A keto diet should be much more than a weight-loss plan—it should also contribute to your overall well-being. If you fail to eat nutrient-rich foods, your goals will be much harder to reach. Eating a nutrient-rich low-carb diet will also ensure you have energy, stabilize your mood, and lower hunger and food cravings—all things that will help you stick to a ketogenic diet.
5. Be Consistent With Your Goals
It is important to understand that planning your keto menu is the start, but sticking to eating according to your ideal calorie and macro levels is how you reach the finish line. You also must stick to your keto diet for more than a couple of weeks to see results. Consistency is key.
Willpower will help you with your goals, but you must dedicate yourself to developing healthy habits over time. Your success will rely heavily on you making healthy food and fitness decisions for your long-term wellness. You don't have to stress yourself to maintain perfection, but you do want to focus on being consistent if you want to see progress. Sticking to your dietary goals consistently will pay off if you keep going.
One thing to note—don't allow a day of not hitting goals to deter you from your long-term progress. Each day is a new opportunity to make healthier decisions!
Why Beginners Adopt a Keto Diet?
Weight Loss
This is the most common reason for someone to start a ketogenic diet. If your goal is to lose weight, maintaining a calorie deficit is key to your success. When you stick to your weight loss goals using keto, you will see weight changes. These may come as a lower number on your scale and/or a change in how your body is shaped (body composition).

Improved Performance
For athletes and others looking to naturally boost their energy levels, keto can be used to help increase efficiency and performance. If you want to see a positive change in your energy levels with keto, you must focus on timing your nutrient intake and getting enough nutrients. You can measure improved performance by assessing your fitness performance and/or testing for metabolic efficiency.
Improved Health
While improved health may seem like a given, it is a very valid and common reason for choosing a ketogenic diet. Due to the ketogenic diet's restrictive nature, getting adequate amounts of nutrients can prove challenging. To see improved health on a ketogenic diet, you should focus on consuming nutrient-dense foods. Measuring progress for your improved health can be done through a health assessment (biometric testing).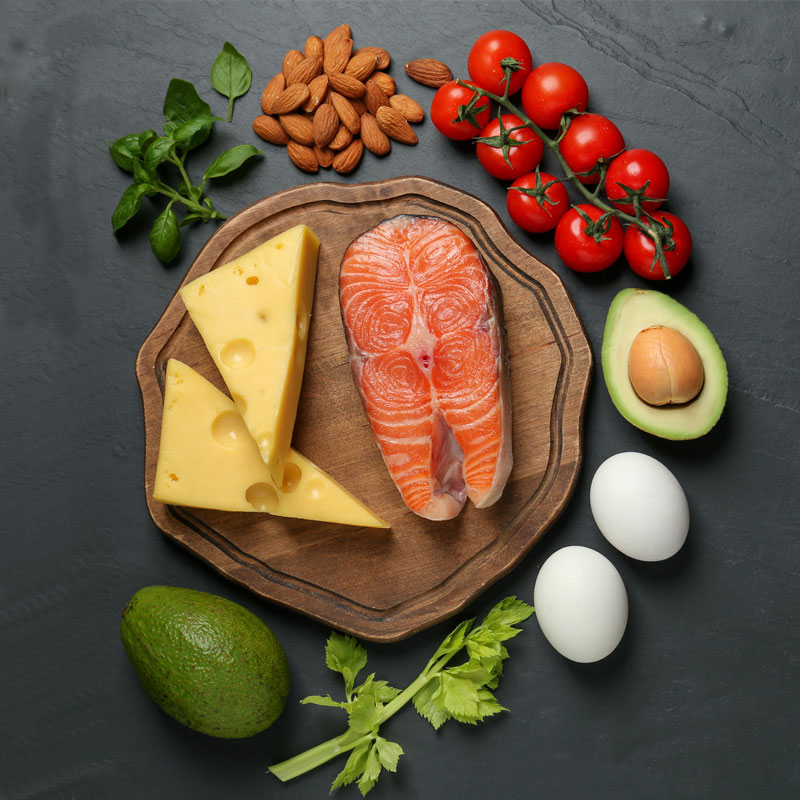 Are There Different Types of Keto Diet?
When you follow a keto diet, your body goes into the metabolic state of ketosis. This is where your energy gets pulled from the stored body fat to run effectively, usually within four days of beginning the diet. Before you begin making dietary changes, you must understand that there are several different versions of the diet that are differentiated by the proportion of protein, fat, and carbs allowed for daily intake.
The following are the four common types of keto diets you can follow:
The Standard Keto Diet (SKD) – The standard ketogenic diet requires low carb intake, moderate protein intake, and high fat intake. The typical macronutrient for a standard keto diet is 20% protein, 10% carbohydrates, and 70% fat.
Cyclical Keto Diet (CKD) – The cyclical ketogenic diet requires cycling days of high carbohydrate nutrient intake (known as "refeeds") with typical ketogenic days.
Targeted Keto Diet (TKD) – The targeted ketogenic diet makes allowances for carbohydrates before or after intense exercise.
High-protein Keto Diet (HPKD) – The high-protein ketogenic diet is similar to the standard keto diet, but the protein intake is higher, usually a ratio of 5% carbs, 35% protein, and 60% fat.
The standard keto diet and the high-protein keto diets have received the most scientific attention, likely because they are the most commonly used methods. The targeted and cyclical diets are newer variations of keto, mostly used by bodybuilders and athletes.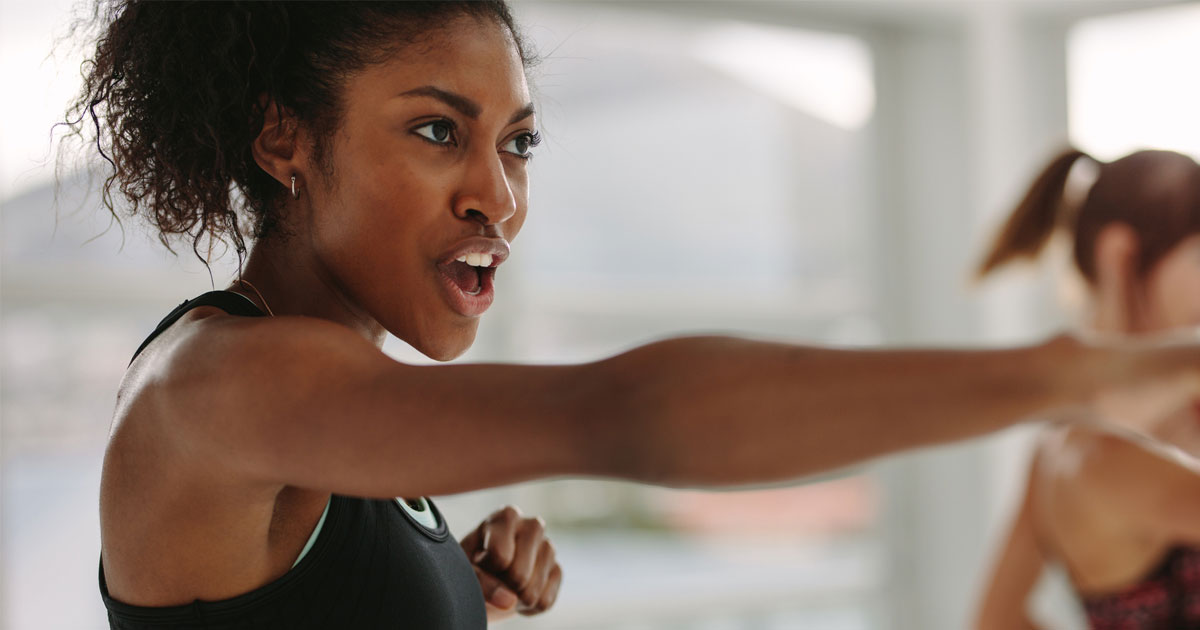 What Should I Do During the First Week of Keto?
The first week of your keto diet can be challenging, especially if you are transitioning from a much less structured way of eating. The nature of the keto diet requires many people to make lifestyle changes that can feel a bit overwhelming early on. It is vital to remember that keto, like many other diets, requires an adjustment period. This is where your body will make a huge shift from using dietary sugars for energy to using fats for energy, leaving you feeling a bit under the weather.
The "Keto Flu" is a real possibility, but with the proper preparation, you can overcome it and thrive in your first week. If you do feel a bit under the weather, the flu-like symptoms may last several days. With your keto-approved menu and consistency, you can make your first week a positive experience.
In addition to eating your menu of keto-friendly foods, you should also use these keto diet tips for your first week.

Hydrate. Switching to a ketogenic diet will cause your body to lose the excess water stored from your former diet of high carbs and sugar. Drinking plenty of water or taking sugar-free electrolyte supplements can help your body adjust to changing water levels.
Focus on hitting your calorie and macronutrient requirements. Get enough protein and fat to reach ketosis, and you will feel better and less hungry.
Get adequate fiber. You want to maintain your gut health to avoid gastrointestinal issues, so consume your greens. Having a salad each day can help you feel full and keep you from becoming bloated or constipated.
Limit pre-packaged and processed foods to stay on target for your carbohydrate intake. Hidden carbs can throw off your macros and prevent you from reaching ketosis, so it is important to limit the amount of sugar you consume if you want to be successful in your first week.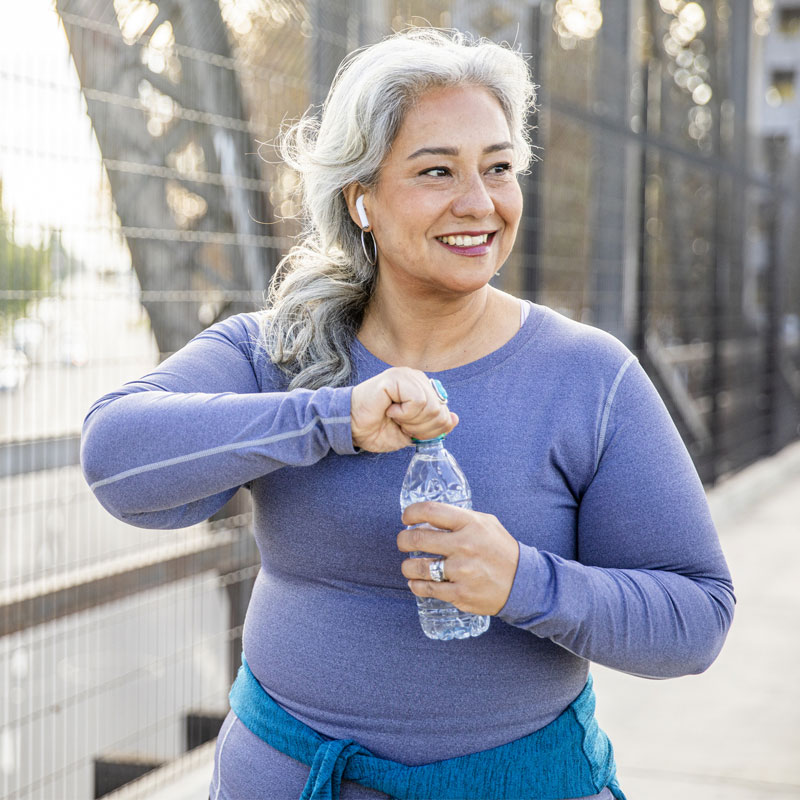 You Can Kick Off Your Keto Diet and Find Success
The switch to a ketogenic diet should ultimately be seen as a lifestyle change that will lead to long-term health and wellness. Set your goals and make a plan to be consistent but give yourself grace as you transition into a new way of using food for fuel. The tips from this guide can help you go from a beginner with keto to a successful keto lifestyle in less time and with less difficulty. You, too, can reap the benefits of ketosis and healthy weight management.
---
Sources
Kristina Calligan is a sub-specialty nurse practitioner in Women's Health. A native to Arizona she obtained her Bachelor of Science in nursing in 2006 at Grand Canyon University in Glendale, Arizona. Never one to stop striving and achieving all that she could, she completed two master degrees in Nursing Science and Business Administration in 2012. Ms. Calligan joined Arizona Gynecology Consultants in 2009. Prior to working at Arizona Gynecology Consultants, she worked as a nurse in labor and delivery at several local hospitals and a research coordinator in women's health care.