Here at Arizona Gynecology Consultants, extensive care is so important to us that we've gone above and beyond to improve patient lives from birth through menopause and beyond. We've worked very hard, and we're proud to announce our recognition for providing top care.
Comprehensive healthcare for women is incredibly important, and with modern technology and new advancements every day, providing the best gynecological service is crucial. No matter the age of the woman or her specific needs, offering the best care possible is of more than the utmost concern – it's our mission.
From the online polling source Ranking Arizona, we received the top place for women's health providers. We couldn't be prouder to continue offering the best in women's healthcare. From minimally invasive procedures to an experienced staff who recognizes how important it is to care for women and their specific needs, you can get the quality care you need from Arizona Gynecology Consultants.
Understanding that each person's situation is unique to them is a crucial first step to excellent healthcare. To us, no patient is just a number. They're each unique in their own way, with special concerns and needs. We take an individualized approach to women's healthcare that allows our patients to feel more comfortable and helps to improve their overall health. Because of this approach, we've gotten the vote of the public.
Getting Recognized by Ranking Arizona
Ranking Arizona is the largest business poll in Arizona. While we strive to provide quality care, a good reputation means everything when it comes to reaching the most women possible. Without the excellent care that we provide, we wouldn't be on the radar of a company like Ranking Arizona. They ask the simple question: "With whom would you recommend doing business?" and allow the voices of the public to shine through. This lets the ultimate decision rest on the people who receive our care.
The staff at Ranking Arizona makes the initial decisions on who to include as polling options; however, the ultimate decision is left up to the people of Arizona. These opinions aren't based on Arizona Gynecology Consultants' size, number of employees, or revenue. When the people of Arizona voted for us, they meant that they'd recommend us to their friends, families, and coworkers. Being voted #1 means we'd be picked first over all others and that our commitment to providing excellent care to our patients is exceptional.
How Our Outstanding Care Speaks for Our Reputation
To ensure that our patients receive the best care possible, we use cutting-edge yet proven medical techniques. For many years, women's healthcare has been incredibly outdated and nearly barbaric. Too often, gynecological care has been provided by either providers with little real understanding of women's bodies or minimal concern and care for their well-being and comfort level during basic tests and exams, surgeries, and procedures.
Instead of allowing this practice to continue, we take healthcare for women seriously. We provide a comfortable and safe environment for our patients to discuss any issues they have and work hard to minimize intrusive methods when it comes to testing and other procedures. Providing accessible care is one of our core tenets, and through accessible care, knowledgeable providers and staff, and the use of modern technology, we're able to show women the care they deserve throughout their lives.
We also take our patients' concerns seriously. Sometimes, it can be difficult to explain issues you're experiencing, or it may be that other providers you've seen in the past haven't listened to your history or concerns. For us to develop a complete picture of your health, we must listen to what you have to say regarding your history, symptoms, and other concerns. We work with you to create a specialized plan to best treat any issues so you can return to your best health.
Women's Healthcare Services We Offer
From exam consultations to contraception and more, we cover all areas of women's healthcare. No matter what care you're seeking, you can know that you'll receive the very best in top-of-the-line care from our team of skilled specialists.
We strive to take care of all the needs of the individual, no matter how routine they are. All our patients deserve the best care possible. That's why, even if it's just a checkup, our team of surgeons and healthcare professionals use their extensive knowledge and experience to treat each unique concern and situation.
Some gynecology services we offer include:
Well-Woman Care – During this service, we take the time to get to know our patients, their histories, and their health concerns so we can understand what kind of treatments may be necessary.
Pelvic Pain – At some point in a woman's life, they'll likely experience some kind of pain in the pelvic region. This can be incredibly uncomfortable, and it may be possible to alleviate it.
Vaginal Prolapse – Over time, a woman's muscles in the vagina may experience stretching or weakening. When this happens, they can prolapse. With the right treatment, this can be helped.
Cosmetics – As with any part of the body, it's possible to make some cosmetic adjustments that may assist with vaginal function in many ways, including sensitivity.
Weight Management – We offer a medically assisted weight loss program for women in Arizona, customized and focused on strategies that bring consistent results.
Suggested Reading: Weight Loss Education
Our Innovative Surgical Services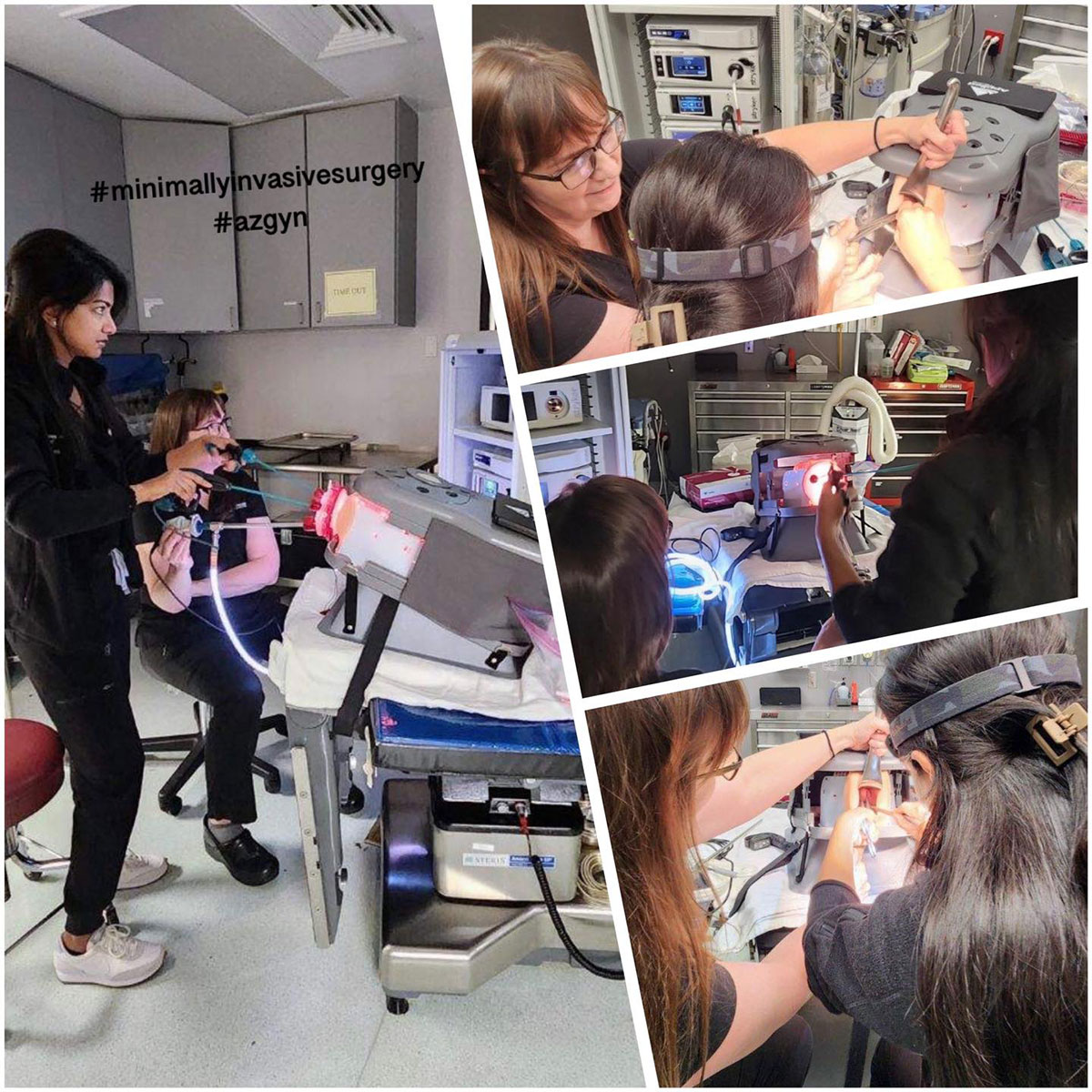 With the best in medical methods, we strive to offer innovative services. There are many parts of women's health and procedures that have always felt archaic. For many years, reducing the impact on a woman's body wasn't a focus of women's healthcare. We're working hard to change that.
One of the most successful changes has been laparoscopy for hysterectomy procedures. Through this method, a smaller incision can allow for a much less invasive procedure. There are several reasons why this is important. First of all, the recovery time is much shorter with this procedure. Often, recovery time can be reduced by as much as half the traditional recovery time. In addition, because the site of the incision is smaller, there is a reduction in pain, risk of infection, bleeding, and fewer complications.
Our services aren't just limited to laparoscopic hysterectomies, however. We offer hormone replacement as a treatment for menopause. By giving your body the estrogen it often needs to work normally, many of the negative symptoms can be combated. We also recognize that endometriosis is a real and incredibly difficult illness to have.
Many women encounter issues when trying to seek a diagnosis for endometriosis. Instead, with frequent office visits, a treatment plan can be created, and symptoms can be managed. Finally, we also recognize how important it is to try innovative methods for treatment. Sonata? offers a better treatment option for uterine fibroids. This method requires no surgical intervention, is an extremely versatile alternative, and allows for a much shorter time for recovery.
Why Gynecological Services Are Important
Early detection and treatment are imperative for receiving the best outcomes for many illnesses and conditions. That's absolutely true for women's health. Much of the time, conditions may be mistaken for other issues or be ignored altogether. Preventative care and early detection are so important that the CDC says that up to 40% of deaths from the five leading causes could be prevented with early detection, including cancer.
Women's healthcare isn't a one size fits all situation. For many people, screenings for cancer, as well as other physical screenings, are recommended at certain ages or in the presence of other risk factors. However, each person's body is different. While it's great to have a basic, scheduled outline of when you should be screened or tested for certain things, it's also important to keep in mind that that schedule may be different if there's a family history or other health factors at play.
Changes in health can happen quickly, and women don't have to live in pain. Whether from painful urination or extreme periods, suffering in silence is no longer necessary for many. Women need providers and a care team who trust them and who will get down to the very bottom of a problem when it's happening. Having progressive care helps women feel more comfortable addressing issues that they have so they no longer feel like they must quietly live in pain.
Our Approach to Women's Healthcare
Our approach to healthcare for women includes comprehensive and safe care where women can feel comfortable in their own skin. It's incredibly important to us that our patients receive the care that they often desperately need and that they know we can be trusted with their health.
Throughout women's lifetimes, we need different kinds of treatment. For women, this doesn't mean that healthcare ends with having children. We're here for our patients early on, whether they're an adolescent experiencing pelvic pain or a woman struggling with menopause and beyond. We understand that even scheduling an appointment can be stressful, as you're concerned with your reproductive health. However, we also work to educate so that each person can have a better understanding of their body so that they can understand their health.
By utilizing the best tools we have available, we're able to provide our patients with the best care. Improving outcomes with minimally invasive techniques, doing our very best to take comprehensive histories, and creating a care plan that works for our patients are all a part of what we offer and what prompted the people of Arizona to vote for us.
Leaders in Gynecological Services in Arizona
With new and innovative treatment methods and tried and trusted approaches, we've been able to provide a multidisciplinary team to tackle any concern and do so while offering a comfortable and caring environment. We want what's best for you, and with that in mind, we strive to work with our patients regarding the issues that are unique to them.
Our skilled staff has extensive experience in a wide area of women's health, with a major focus on minimally invasive procedures. We understand that minimizing the pain and discomfort frequently experienced during procedures for women and using the best tools at hand is paramount for offering care for women. With nearly a full team of women providing care at Arizona Gynecology Consultants, we have first-hand knowledge of the importance of excellent care. Learn more about our team, their specialties, and their excellence and qualifications, and let our team get your health on track.
Our team of surgeons takes a special interest in minimally invasive procedures and are leaders in their own rights. Through education, medical device design, and allyship, the expert staff is a prime example of what makes Arizona Gynecology Consultants so great.
Suggested Reading: Staff at Arizona Gynecology Consultants
Arizona Gynecology Services
Ranking Arizona ranks businesses across the state, and they admit how difficult it can be to say who's best in any industry. Letting one person or a small group of people decide isn't the best way to determine anything. However, Ranking Arizona left their result up to the people of the great state of Arizona, and the people have spoken.
We are proud of the Arizona gynecology services we can provide, and we're proud that the Arizonan populace believes in us.
Kristina Calligan is a sub-specialty nurse practitioner in Women's Health. A native to Arizona she obtained her Bachelor of Science in nursing in 2006 at Grand Canyon University in Glendale, Arizona. Never one to stop striving and achieving all that she could, she completed two master degrees in Nursing Science and Business Administration in 2012. Ms. Calligan joined Arizona Gynecology Consultants in 2009. Prior to working at Arizona Gynecology Consultants, she worked as a nurse in labor and delivery at several local hospitals and a research coordinator in women's health care.