Perimenopause is the stage before menopause, also known as menopause transition. As the female body begins to transition into menopause, it also produces less estrogen. This natural transition indicates the end of reproductive years, until eventually the female body no longer produces eggs. During perimenopause, women still have their periods, but the cycles' durations can change, becoming longer, shorter, or skipped altogether.
Once a woman has not had a period in 12 consecutive months, perimenopause is over, and menopause has begun. The signs of perimenopause are a result of decreasing estrogen, and can be uncomfortable and unexpected. For women approaching menopause, it is important to understand what the signs of perimenopause are. Seeking the right professional counsel and treatment can help make your perimenopause experience more tolerable.
When Does Perimenopause Start?
The change of life that occurs with perimenopause is different for every woman. Typically, the process begins when a woman is in her 40s, but can occur as early as her 30s. Changes in the body due to hormonal fluctuations mark the beginning of perimenopause. However, the true beginning of perimenopause is at birth. At birth, every woman has the total number of eggs she will ever have in each ovary. During puberty, the body ovulates and prepares itself for reproduction. During perimenopause, the opposite takes place. As perimenopause takes place, the body has depleted its supply of eggs ending the natural reproductive cycle. It is important to be honest with your healthcare provider and loved ones if you feel you are in perimenopause.
How Long Does Perimenopause Last?
Perimenopause lasts until menopause begins, which is after 12 consecutive missed periods. In years, perimenopause typically lasts for four years, but some women may only experience perimenopause for a few months, or it may last up to 10 years.
Estrogen During Perimenopause
Changing levels in circulating oxygen throughout the female body are the direct cause of perimenopause. During puberty and a woman's natural reproductive years, estrogen within the body rises and falls at regular intervals. Two hormones specifically control estrogen: follicle-stimulating hormones (FSH) and luteinizing hormones (LH). Various amounts of FSH and LH control regular ovulation, causing the egg to fall during ovulation. Ultimately, this process is what causes pregnancy, but if pregnancy does not occur, the cycle begins again. Changes in these two hormones during perimenopause alter the cycle completely, until menstruation ceases to occur.
What Are Early Signs of Perimenopause?
Perimenopause might seem to happen unexpectedly, but there are early signs that indicate perimenopause. Symptoms vary among women, and never occur to the same degree. It is important for woman to be observant of their bodies as they approach common perimenopause age. Some of these early symptoms of perimenopause may include:
Breast tenderness
Worsening premenstrual syndrome
Changing cholesterol levels
Fatigue
Mood swings
Vaginal dryness
Discomfort during sex
Urine leakage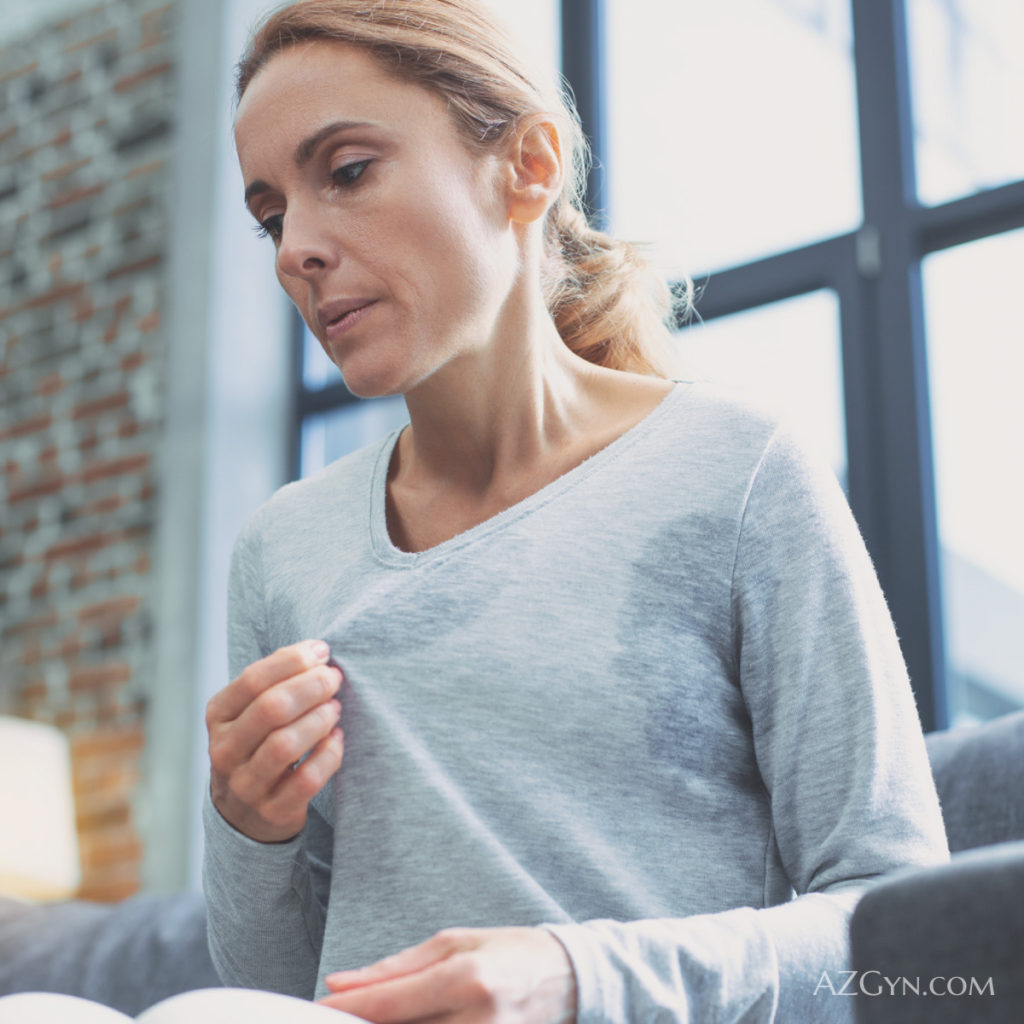 Women who are unsure if they are experiencing perimenopause should consult their doctor. A doctor can usually diagnose perimenopause based on symptoms alone, otherwise a blood test may be helpful. Blood tests will measure hormone levels, but while hormone levels are changing, it is common practice to take several blood tests at different times for comparison.
What Are Common Symptoms of Perimenopause?
Perimenopause is a biological change in hormones, however common life changes due to aging also play a role in perimenopausal symptoms. A woman should understand what are the symptoms of perimenopause specifically, and differentiate between lifestyle changes such as children leaving, changes in careers, or death or illness of parents common at this time.
Perimenopause periods: Irregular cycles and spotting instead of a period characterize perimenopause periods. Changes in periods may include shorter or longer cycles, heavy or lighter flows, spotting, or skipping periods altogether. A change of seven days or more indicates perimenopause, while a change of 60 days or more indicates late perimenopause. 
Hot flashes: Most women believe that hot flashes are only characteristic of menopause, but they often begin in perimenopause. Hot flashes can vary from a slight feeling of warmth to an overwhelming feeling of consumption by fire, inside and out. A significant hot flash can induce facial and upper body redness, swelling, chills, visible perspiration, and even confusion. 
Decreasing fertility: Irregular ovulation inevitably means that the likelihood of conception and pregnancy decreases. However, even during perimenopause pregnancy is not impossible. Pregnancy is still possible until a woman hasn't had a period for 12 consecutive months. 
Changes in sexual function: Significant changes in a woman's body will often cause changes in sexual function such as lower sex drive and a decrease in arousal. Vaginal dryness and changes in bladder function can also contribute to changes in sexual function. Restoration of sexual drive should occur after perimenopause has passes. 
Nausea: Perimenopause nausea is a result of varying levels of estrogen in the body. When levels of estrogen are particularly high, nausea is highest as well. In some women, this may require rehabilitation through medication or other treatment. 
Loss of bone: Loss of bone is also known as osteoporosis. Osteoporosis is a common occurrence as men and women age, but there is a direct link between decreasing estrogen levels and loss of bone.
These are the most common symptoms of perimenopause, but physicians do not consider all signs harmless. In order to rule out other conditions, a woman should consult her doctor if she experiences any other changes in bleeding, such as:
Heavy periods with blood clots
Periods that last several days longer than usual
Spotting between periods
Spotting after sex
Periods that occur close together
Any of these symptoms can be a result of other issues within the body not associated with perimenopause.
What Are My Perimenopause Treatment Options?
Perimenopause is a natural occurrence within the female body, but treatment is available for symptoms that get in the way of daily functioning. Doctors recommend improving general health and well-being through regular exercise and following a healthy diet, but other treatment options are available.
Hormone therapy: Hot flashes are one of the biggest concerns. Hormone therapy, in the form of pills, skin patches, gels or creams, can often alleviate the symptoms.
Vaginal estrogen: A vaginal estrogen cream applied directly to the tissue can help alleviate vaginal dryness, discomfort during intercourse, and some urinary problems.
Antidepressants: Antidepressants can help alleviate both mood swings and hot flashes.
Perimenopause occurs in all women, as early as their 30s or anytime throughout their 40s. If symptoms are mild, perimenopause may go unnoticed. Perimenopause has officially ended when a women has missed 12 consecutive periods, known as menopause. The most common symptoms of perimenopause include hot flashes, irregular periods, a decrease in fertility, nausea, and changes in sexual function.
Perimenopause is a natural occurrence within the female body. However, it is still important to consult your doctor when these changes occur. Specialists at AZ Gyn can provide early screening for women with low estrogen and treatment for perimenopause. AZ Gyn's Gynecology Services and Minimally Invasive Procedures assist women towards attaining optimal health, including the treatment of perimenopausal and menopausal symptoms, enabling relief through compassionate, personalized care.
Founder and Medical Director of ARIZONA GYNECOLOGY CONSULTANTS
Dr. Kelly Roy is a specialist in surgical gynecology and advanced laparoscopy (and hysteroscopy). She is a long-time resident of Arizona and obtained her Bachelor of Science degree in Biomedical Engineering at Arizona State University before finishing her Doctorate of Medicine at the University of Arizona in 1997.
Dr. Roy completed her residency in Obstetrics and Gynecology at the then "Banner Good Samaritan Hospital" (now Banner University Medical Center), in Phoenix Arizona in 2001.
Well known for her teaching and surgical ability, she is on the faculty at the residency program at both Banner University Medical Center and Saint Joseph's Hospital in central Phoenix and is a Clinical Assistant Professor of Medicine at the University of Arizona College of Medicine, Phoenix Campus. Dr. Roy has taught advanced surgical techniques to medical students, residents, fellows and colleagues for over 15 years.
Dr. Roy is also a consultant to the medical device industry and has participated in the design and clinical testing of many instruments and surgical devices available on the world-wide market today.
Read More About Dr. Kelly Roy, MD   |   WebMD Profile   |   Health.USNews.com Profile |  Current Obstetrics and Gynecology Reports: TFA with the Sonata System