Eating a healthy diet – especially one that requires attention to specific macronutrients – can seem almost impossible to manage in your day-to-day life.
Whether you have children, a heavy work schedule, or various other time-consuming stressors, your diet may eventually seem like the least of your concern.
Unfortunately, weight-related health problems continue to mount in this country, and many of them can be attributed to diets that ignore our true metabolic needs.
Worse, there are many misconceptions about attention to a healthy diet, including that it is expensive, time-consuming, and takes away all the flavor of life. It isn't surprising that many people don't feel they have time or mental resources to eat well – just as it can be hard to resist your favorite snacks or that extra piece of cake at the office meeting, it can be difficult to return home from a busy day and have to think about a healthy meal to create for dinner. With the pressure placed on us on a daily basis, it's no wonder many people opt for a drive-through burger rather than a healthy home-cooked meal.
Fortunately, there is a way to create a healthier lifestyle for yourself on those busy weekdays: meal prep.
What Is Meal Prepping?
Meal prepping has become the way of the modern world. As people from all walks of life become busier and spend less time in the house, it becomes essential to find a way to cook food in the small window of time available between arriving home and activities, social gatherings, relaxing, and bedtime. Meal prepping can reduce the stress of figuring out what you are going to eat each day by pre-planning and creating meals ahead of time for the week.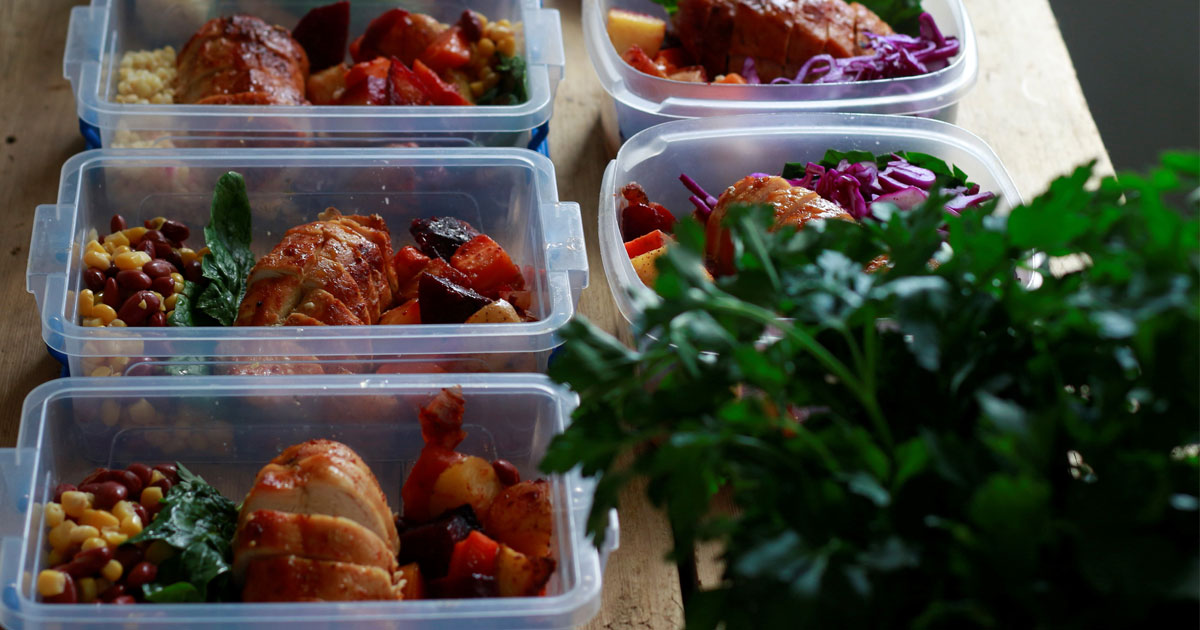 Aside from time savings, the goal of meal prepping is also to help you eat a more nutritious diet. Instead of stopping by your local fast food joint on the way home, you'll have a healthy meal ready and waiting. Plus, by monitoring portion sizes and reducing the use of carbohydrates, you can ensure you're getting the essential nutrients you need without risking overconsumption.
In addition, despite what you may think, meal-prepping does not require an entire day of cooking/planning. Instead, meal-prepping can be accomplished in a variety of ways.
Batch Cooking – Make a large portion of one meal and keep it frozen or refrigerate it for those extra busy work days.
Ingredient Prep – If you have a recipe in mind for the week, buy and prep the ingredients ahead of time to reduce your time in the kitchen.
Grab and Go Meals – Prepare individual portion-sized dishes that you can grab and go. This way, you are getting a regulated amount of nutrients every day.
Meal-Prepping Made Easy with These Low-Carb Recipes
Eating a low-carb diet can actually help your body lose weight because as your body adjusts to reduced carb intake, it will begin a process called dietary ketosis. Also considered a state of metabolic being, ketosis requires the body to create energy from fat instead of blood glucose. In this way, ketosis can potentially help you lose weight and suppress your appetite. Therefore as your body adjusts to this change, you may find yourself needing to eat less and less, causing you to shed the pounds.
This can be a scary change for any carb-loving person. Fortunately, with the help of some tasty recipes, enjoying a low-carb diet can be much more delicious than you've ever imagined. Preparing in advance can help make eating a healthy lunch or dinner a snap, even in the middle of a busy work week.
---
Salmon Stuffed Avocados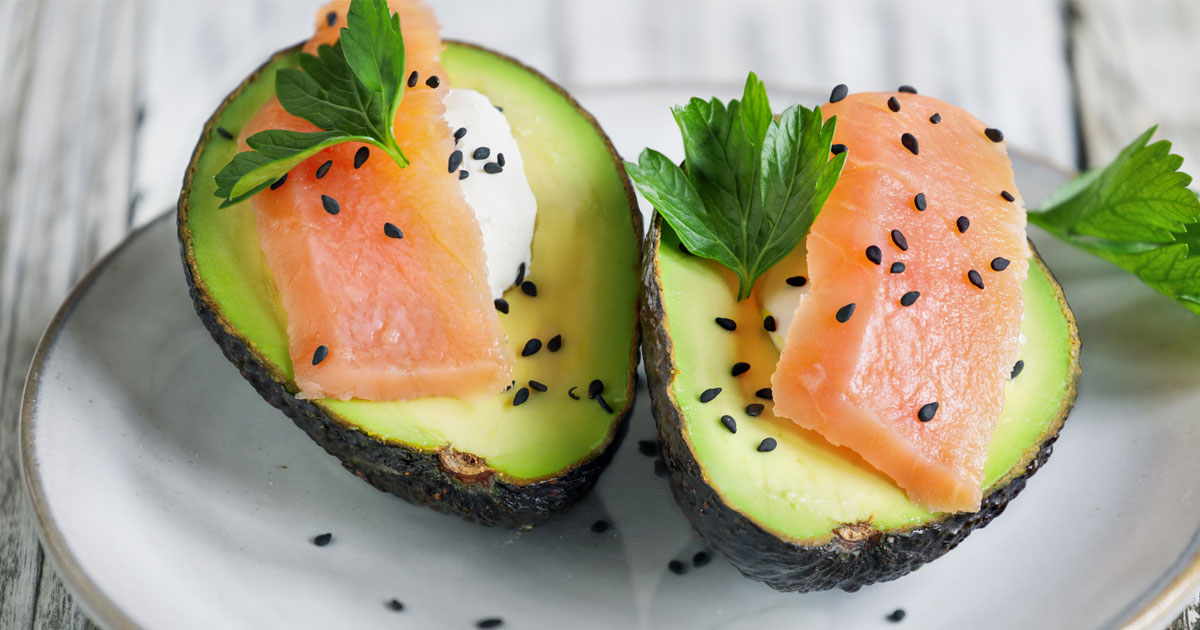 If you are looking for a very quick, easy-to-make meal full of essential omega-3s, proteins, and fresh flavor, look no further than your pantry.
What You'll Need:
Medium-sized mixing bowl
Sharp knife for chopping vegetables
Small mixing bowl
Ingredients:

½ c nonfat plain Greek yogurt
½ c diced celery
2 T of fresh parsley (chopped)
2 t mayonnaise
1 t Dijon mustard
A pinch of salt
A pinch of pepper
2 5-oz cans of salmon
2 avocados
Chopped chives for garnish
Directions:
Combine all ingredients except the two avocados in the mixing bowl. Mix until they are thoroughly combined.
Cut the two avocados into equal halves.
Remove the pits from both avocados and scoop out about one tablespoon of flesh from each half.
Mash the avocado flesh and then combine the flesh with the salmon mixture in a medium-sized bowl.
Scoop ¼ cup of the mixture into each avocado half, creating a small mound on top.
Garnish with chives.
Enjoy!
---
Garlic and Herb Shrimp on Spaghetti Squash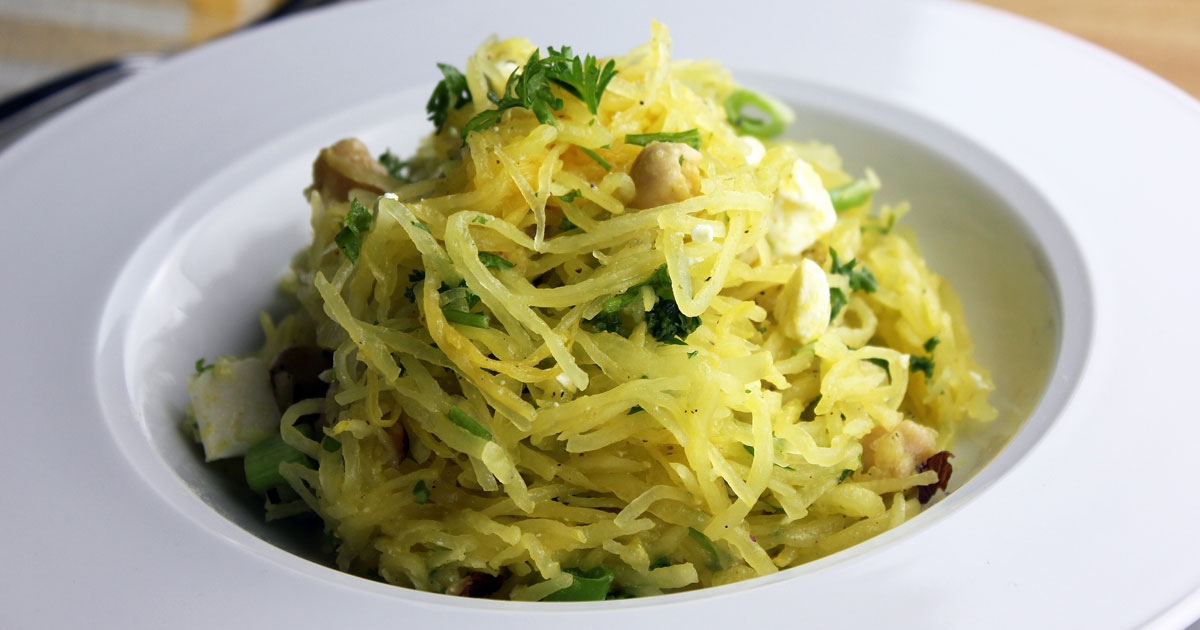 If you have a pasta craving, this is the perfect low-carb alternative. What makes it even better is that it can be almost entirely prepared in an electric pressure cooker, then portioned and refrigerated for you to enjoy throughout the work week.
What You'll Need:
Electric pressure cooker
Microwave
Cooking mit
Mixing bowl
Ingredients:

1 spaghetti squash
1lb raw, peeled, and deveined shrimp
2 cloves minced garlic
1 t onion powder
1 t dried parsley
1 t dried oregano
1 t dried basil
A couple of pinches of salt
A couple of pinches of pepper
1 T olive oil
Fresh parsley to garnish
Parmesan cheese (optional)
Directions:
Warm your pressure cooker for 5-10 minutes (on the Instant Pot, use the sautee feature).
While the pot is warming, poke holes along the middle of the squash with a fork.
Soften the inside of the squash by microwaving it for five minutes.
Cut squash in half (horizontally) and use a spoon to scoop out all the seeds.
Drizzle the squash with a little bit of olive oil, salt, and pepper.
Place the squash in the instant pot and securely close the lid.
Set the pressure knob to sealing. Select "manual" and leave the squash in the pot for approximately seven minutes.
Prepare the shrimp while waiting for the squash to cook. To do this, add them to a bowl and combine the spice mix, including the minced garlic. Once thoroughly combined, refrigerate the shrimp until cooking time.
Once the seven minutes is up, use an oven mitt to release the pressure knob to venting. Wait till all the steam is released from the pot before removing the squash. Wipe out the pot.
Now it's time to cook the shrimp. To do so, select "saute" once again. Let the oil heat up first and then place the shrimp in the pot in a single layer. Cook the shrimp until opaque.
Once the shrimp are ready, press cancel and remove them from the pot.
Using a fork, shred the inside of the squash so it resembles spaghetti.
Serve the squash and the shrimp together and garnish with parmesan and parsley.
Enjoy!
---
Chicken Gyro Bowl
If you're a fan of Mediterranean food, you will want to check out this no-carb chicken keto bowl. Instead of utilizing a wrap or pita, the chicken gyro bowl combines all of your favorite ingredients in a bowl for lunch or dinner. It's easy to change up this recipe, too – simply add your favorite veggies or eliminate ingredients you don't like. Just remember to keep it low-carb!
What You'll Need:
Large mixing bowl
Whisk
One-gallon freezer bag
Ingredients for Chicken Marinade:
2 cloves garlic
1 T red wine vinegar
2 T lemon juice
2 T olive oil
3 T sour cream
2 t dried oregano
¾ t salt
½ t pepper
Bowl Ingredients:
24 oz of boneless chicken
¼ c diced red onions
2.5 c diced cucumber
1 c diced tomatoes
40 kalamata olives
1 c feta cheese
1 c Keto Tzatziki Sauce
Directions:
Combine all the chicken marinade ingredients in a large mixing bowl
Place chicken in the one-gallon freezer bag. Pour the marinade over the chicken, seal the bag, and shake
Refrigerate the chicken in the bag, allowing it to marinate for four hours
For baked chicken, place in a glass baking dish and bake at 400 degrees for 20 minutes. Or, grill the chicken until cooked through.
After the chicken is cooked all the way through, cut into thin slices
Divide the veggies, cheese, chicken, and sauce between four bowls
Enjoy or refrigerate for later
---
Mexican Lettuce Wraps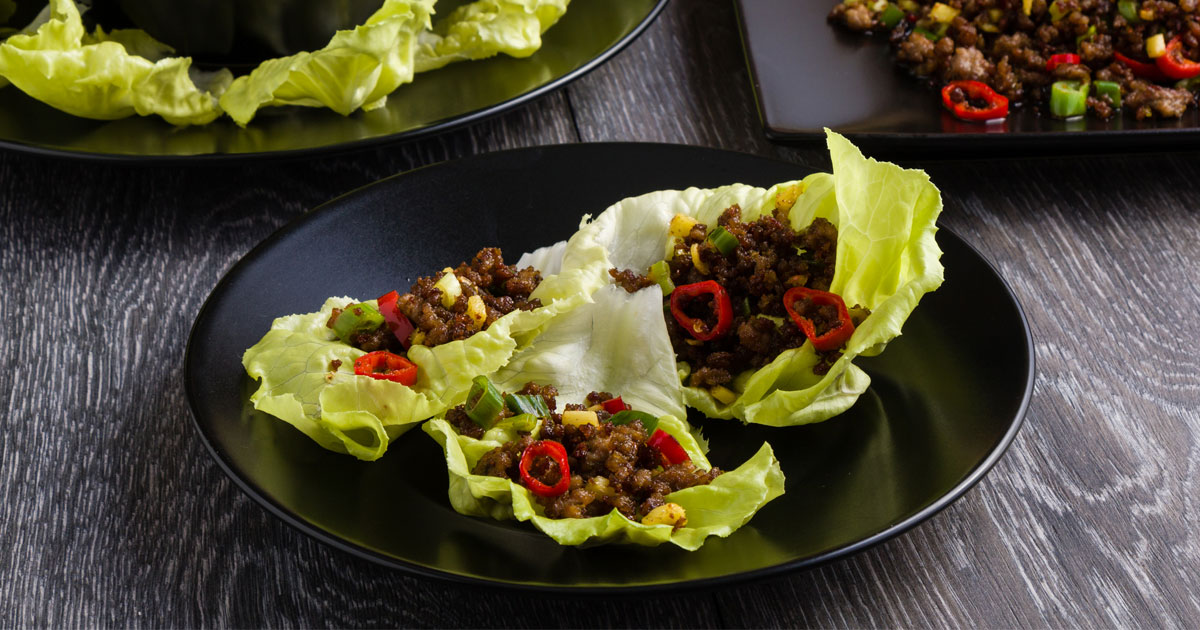 Mexican food is a favorite of people across the country. However, for those on low-carb diets, it may seem impossible to enjoy all your favorite Mexican cuisine. You can use lettuce to create a Mexican bowl or as a substitute for flour or corn tortillas..
What You'll Need:
Large skillet
Whisk
Small mixing bowl
Strainer
Cutting knife
Ingredients:
One head of iceberg lettuce or one package of romaine lettuce
1 T oil
1 lb of ground beef or turkey
¼ t of salt
5 T of your favorite salsa
1 T rice vinegar
1 ½ t ground cumin
1 c avocado (diced)
1 c julienned jícama
¼ c diced red onion
Directions:
Chop lettuce. You will need about 8 small leaves or 4 large leaves.
Wash the lettuce and place into a strainer to remove excess water.
Saute the meat in a pan with oil and salt for about 4 to 6 minutes.
While the meat is cooking, whisk together salsa, vinegar, and cumin in a small bowl.
When the meat is cooked thoroughly, remove it from the heat and transfer it to a mixing bowl.
Combine the meat with the salsa mixture.
Serve the meat in the lettuce leaves and top with diced avocado, onion, and jícama.
Enjoy!
---
Coconut Curry on Cauliflower Rice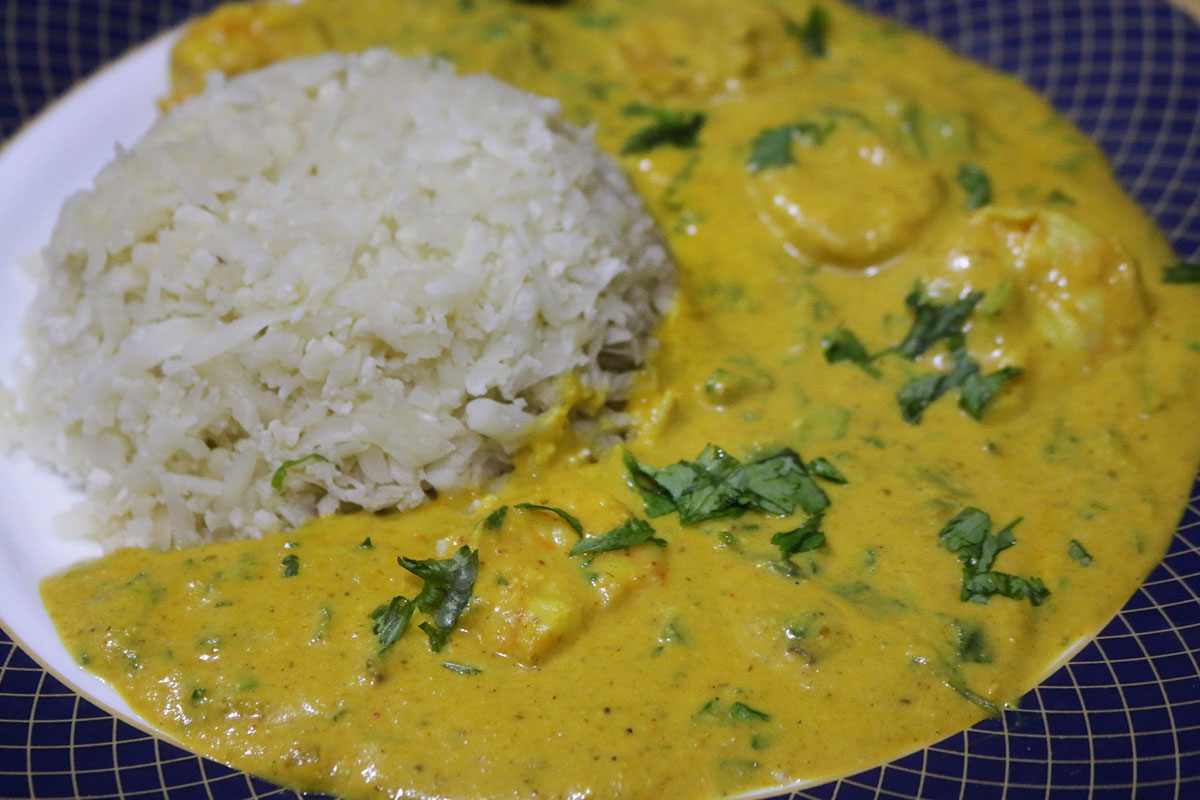 Indian cuisine is bursting with flavor and can be some of the healthiest food to enjoy when you are trying to cut back on calories. Though many dishes are typically served with rice and naan, it is very easy to substitute the carbs with carb-free cauliflower rice.
What You'll Need:
Large cooking pot
Cutting knife
Mixing spoon
Ingredients:
4 c riced cauliflower (prepare this ahead of time or buy it pre-prepared)
2 c cauliflower florets
2 c broccoli florets
1 red pepper, sliced
3 c butternut squash, cubed
Pepper as desired
Salt as desired
1 t ground ginger
1 t ground coriander
1 t chili powder
2 t ground turmeric
2 cans (13.5 oz) coconut milk
3 T green curry paste
2 cloves of garlic, minced
½ c yellow onion, diced
? c chicken broth
2 boneless, skinless chicken breasts
Olive oil to taste
Directions:
Heat olive oil in a large pot.
When oil is hot, add the cubed chicken. Season with your desired amount of salt and pepper and cook until the chicken begins to brown on both sides. Set aside once done cooking.
Add garlic, onion, and chicken broth to the pot, stirring occasionally. Cook until onions become fragrant.
Add the green curry paste evenly to the mixture and stir.
Next, stir in the turmeric, coconut milk, chili powder, coriander, ginger, salt, and pepper
Once completely combined, stir in the chicken, broccoli, red bell pepper, squash, and cauliflower florets. Wait for the mixture to boil.
Reduce heat to low and cover with a lid. Let simmer for about 15 minutes or until the vegetables feel tender.
Remove from heat and let cool.
Portion into four servings with cauliflower rice at the bottom.
Enjoy after cooking or refrigerate to eat throughout the week.
---
Carb-Free Antipasto Salad
Antipasto is a traditional Italian first course, and is often served in the US as a salad with the addition of cold pasta. However, you can mix up this flavorful antipasto salad with a zero-carb substitute: seasoned cauliflower.
What You'll Need:
Gallon sized bag
Cooking pot
Cutting knife
Small mixing bowl
Ingredients for Salad:
4 cups chopped raw cauliflower
1/3 lb salami (preferably Genoa), cut into bite-size pieces
1/3 prosciutto, cut into bite-size pieces
1/3 lb pepperoni, cut into bite-size pieces
3 oz pepperoncinis, drained
5 oz roasted red peppers, drained
1 can artichoke hearts, 13.5 oz, drained and quartered
3 oz black or Kalamata olives, pitted and drained
8 oz fresh mozzarella, cubed
6-7 leaves fresh basil, chopped
Ingredients for Dressing:
2 t lemon juice
½ c red wine vinegar
½ t pepper
1 c olive oil
¾ t salt
1 t onion powder
2 t garlic powder
2 t dried oregano
Directions:
Combine dressing ingredients in a small bowl.
Bring cauliflower florets to a boil in one inch of water or steam to desired tenderness.
Drain cauliflower, pat dry, and pour into a freezer bag with half of the dressing.
Let marinate for at least an hour in the refrigerator.
Before serving, toss all the remaining ingredients in the large mixing bowl with the cauliflower and pour in the remaining dressing.
Stir and enjoy!
---
Weight Loss Help for Women
Many women struggle with a cycle of weight loss and weight gain that seems to be on repeat throughout their lives. It can be difficult to address this issue and even more challenging to achieve a body weight they are comfortable in. Fortunately, there is help and weight loss education for those who want to address their metabolic needs with a medical weight loss program.
At Arizona Gynecology Consultants, we are proud to offer a medically assisted weight loss program. Our knowledgeable team is dedicated to helping you identify a medical weight loss program that works for you and tailor it to your needs.
Nurse Practitioner

Ashley is a board certified Nurse Practitioner who is excited to follow her passion back into women's health. She has five years of experience as a Nurse Practitioner in family medicine, as well as, five years of bedside experience in high risk labor and delivery.
Ashley is a native of Illinois, but moved to Arizona in 2015 to accelerate her nursing career. She achieved her Bachelor's of Science in Nursing from Clarke University in Dubuque, Iowa where she also played volleyball. While working as a nurse in 2017 at Banner University Medical Center, she completed her Master's of Science in Nursing at Chamberlain College of Nursing.