Most people are likely to agree: After receiving a diagnosis of any kind, it's a relief to learn that the treatment is minimally invasive or non-surgical. It's even better when the condition doesn't require treatment, of any kind. Much of the time, that's exactly the case for uterine fibroids. If small enough, the fibroid likely won't cause any symptoms, and won't need to be treated. In some instances, fibroids may need to be treated with medication.
However, this isn't always the case for larger, more severe uterine fibroids. In some instances, these fibroids may be large enough to impair fertility — they may also cause more intense and uncomfortable symptoms, such as excessive menstrual bleeding. This is the point at which a fibroid would typically need to be surgically removed.
Historically, uterine fibroids have been removed using procedures such as hysterectomies and myomectomies. Surgeries such as these can have a substantial impact on the patient's life, moving forward. For example, although receiving a hysterectomy (the complete removal of the uterus) will ensure that fibroids do not grow back, it will result in the person being unable to have children. The decision to receive a hysterectomy can be a difficult one to make.
More recently, non-surgical solutions to uterine fibroids have been developing — this includes the Sonata® fibroid treatment.
What Are Uterine Fibroids?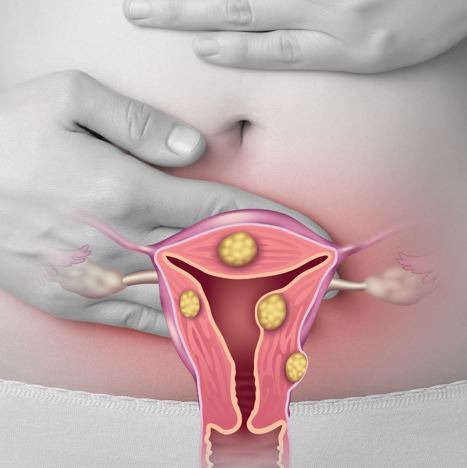 Uterine fibroids are growths on the uterus. They're non-cancerous, and very rarely develop into uterine cancer. Fibroids typically develop during childbearing years.
The size of a fibroid varies quite significantly, depending on the individual. At their smallest, fibroids can be as tiny as seedlings — so small that they may not even be visible to the human eye. However, if they grow larger and more severe, fibroids can become significant masses, which are able to enlarge and even distort the uterus.
The number of fibroids someone possesses can also vary from person to person. It's possible to develop just a single uterine fibroid. It's also possible to develop multiple fibroids. In some especially extreme instances where a person has large or numerous fibroids, the uterus can enlarge to the point where it comes into contact with the rib cage, even adding weight to the person's body. (However, this isn't a common scenario.)
Many women will develop uterine fibroids at some point in their lives, leading up to menopause. As a whole, the condition is quite common. Since fibroids often don't lead to symptoms, many women with fibroids will remain entirely unaware. Still, it is possible for fibroids to be discovered during a prenatal ultrasound or a pelvic exam. In these symptom-free fibroid cases, the individual will likely not require treatment, of any kind.
In instances where fibroids do lead to symptoms, here's a clearer idea of what to look out for:
Menstrual bleeding that's heavy and lasts longer than a week
Pain or pressure in the pelvic region
Frequent urination and difficulties emptying the bladder
Pain in the legs or back
Constipation
Painful sex
Fertility issues
If you begin to notice any conjunction of these symptoms, then be sure to consult your doctor.
What Is the Sonata® Treatment?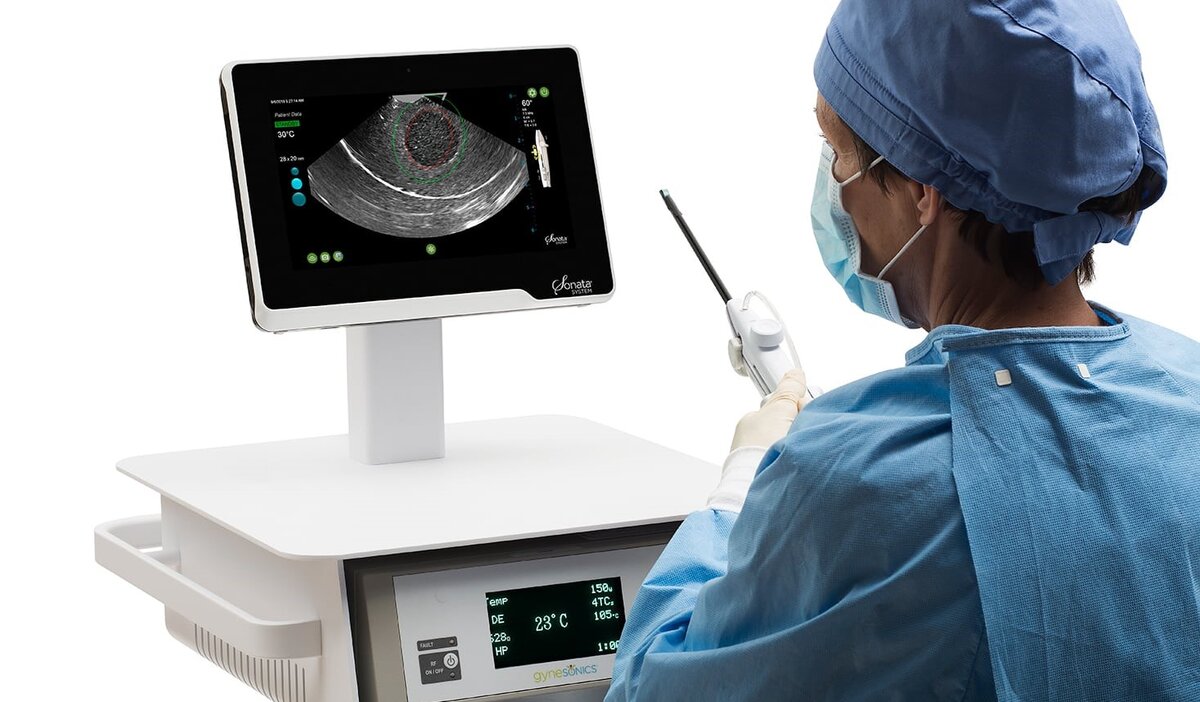 The Sonata® Treatment is a minimally invasive option for treating symptomatic uterine fibroids. It has been approved by the U.S. Food and Drug Administration (FDA), making it a viable and effective option for fibroid treatment in the United States. It was developed by Gynesonics, a women's health care company that focuses its efforts on developing transcervical technologies that are incision-free and minimally invasive. These technologies are intended to be uterus-preserving and can be used for the purpose of diagnosis and treatment of women's health conditions.
The treatment is fully incision-free and begins with the use of an intrauterine ultrasound device. Using this device, a medical professional is able to find and target individual uterine fibroids. Upon discovery, radiofrequency energy is sent to the fibroid being targeted, leading to a reduction in size, as well as less severe symptoms in the patient.
In many ways, the Sonata® system is a breakthrough method of treating symptomatic uterine fibroids. Thanks to the treatment, instances of hysterectomies and myomectomies can be reduced, and the uterus can be preserved. Additionally, the Sonata® treatment is versatile, being capable of treating various types, sizes, and locations of uterine fibroids.
Related Articles:
According to clinical studies, the Sonata® system has been shown to reduce fibroid systems. Within three months of the treatment, close to 90 percent of women saw a significant reduction in menstrual bleeding. Within a year, this number rose to around 95 percent of women. Further, following their treatment using the Sonata® system, over half of the patients had returned to their regular activities by the next day. This is a far different scenario than if the patient had received a hysterectomy or a myomectomy instead.
How Does the Sonata® Treatment Work?
The Sonata® treatment can be used to treat uterine fibroids of different sizes and types, as well as fibroids found at different locations in the uterus. No incisions will need to be made. The Sonata® procedure is often performed while the patient is under anesthesia. The fibroid specialist will begin by inserting the intrauterine ultrasound device — it will be inserted into the uterus via the vagina.
Using this ultrasound device, the specialist will be able to begin locating the uterine fibroids. Once the fibroids have been accurately pinpointed, the radiofrequency energy will be introduced directly to the growth. This begins the process of a gradual shrinking of the fibroid, which will continue over time. This also leads to the eventual reduction of (or relief from) symptoms associated with uterine fibroids.
Given the nature of the treatment, the uterus is not harmed in the process. Unlike with a hysterectomy, the uterus is fully preserved and has the potential to heal. The Sonata® treatment is also an outpatient procedure, rarely taking more than one hour for a specialist to complete.
What Are the Benefits of Using Sonata® for the Treatment of Women With Uterine Fibroids?
Unsurprisingly, the Sonata® system offers a large variety of benefits, compared to other treatments women may receive for symptomatic uterine fibroids. Here's an overview of those benefits:
Given that the Sonata® system is capable of targeting and treating a variety of fibroid locations and types, it is a uniquely versatile method of treatment. If you're currently experiencing symptoms as a result of uterine fibroids, there's a good chance you'll be able to qualify for the Sonata® treatment. You won't have to worry about your fibroids being "severe enough" to warrant treatment using the Sonata® system — if you're experiencing symptoms of any degree, this could be an option to suit you. Consider having a conversation with your doctor, if you're unsure.
Unlike many of the existing treatments for symptomatic uterine fibroids, the Sonata® system requires no incisions or surgical interventions. It is also possible for the procedure to be performed without general anesthesia, based on your preferences or your specialist's. Due to the lack of surgical intervention, you should expect a far shorter recovery time compared to if you received a hysterectomy or a myomectomy. Also, unlike these more invasive procedures, the uterus is preserved. This can be a huge long-term benefit for many women. Receiving fibroid treatment via the Sonata® system will not damage your ability to have children in the future.
Due to the minimally invasive nature of the treatment, there is no scarring associated with the Sonata® system.
There's not just a shorter recovery time for those who receive the Sonata® treatment, but in addition, there will be a far shorter hospital stay to account for as well. Plus, in many cases, women who've received the Sonata® system treatment have been able to return to their usual daily routine by the very next day.
Is the Sonata® Treatment Covered by Insurance?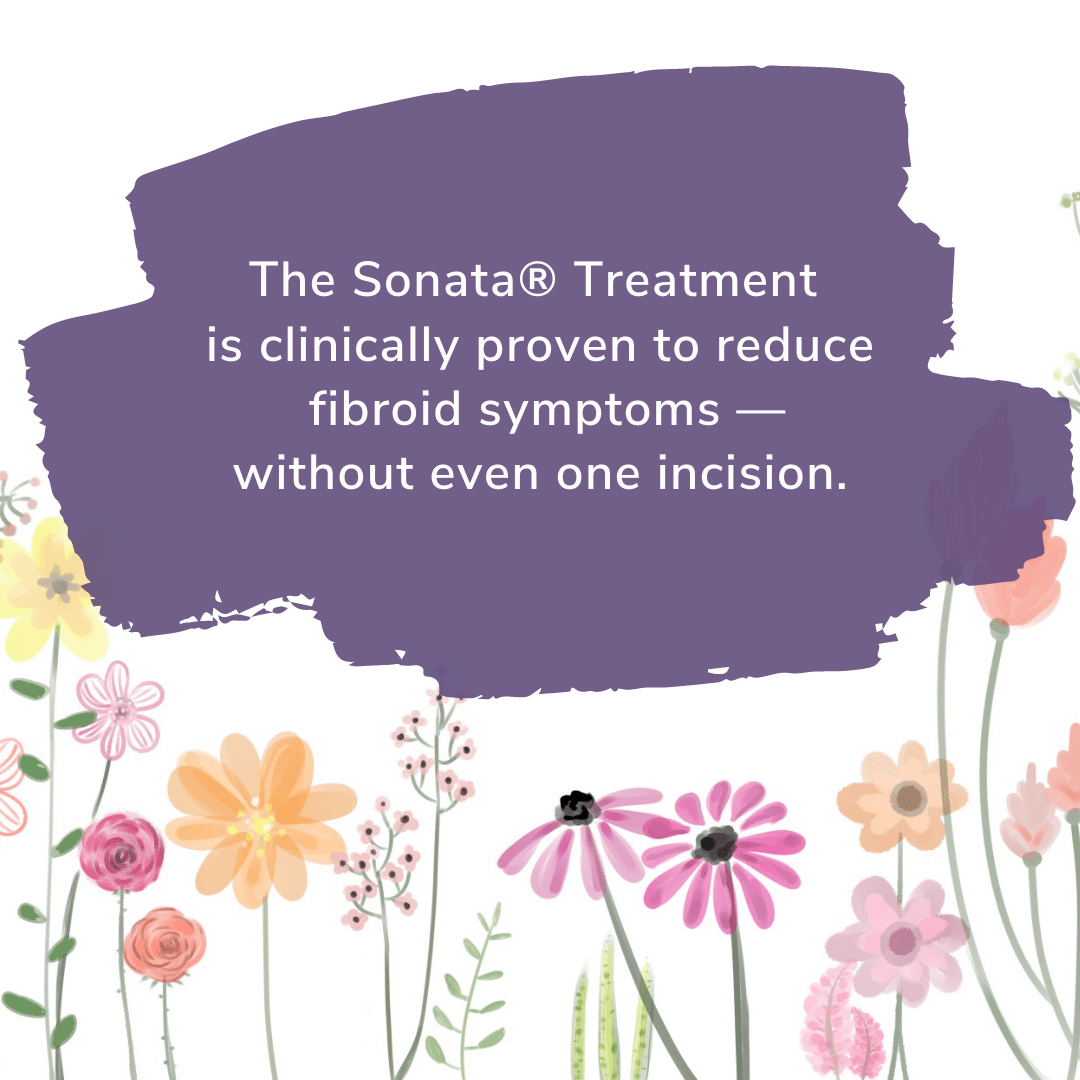 As is the case for most new medical treatments, insurance coverage can vary from provider to provider. After having a conversation with your doctor and establishing that the Sonata® system is a viable treatment for you, your specialist can work with your insurance and check for coverage.
Fortunately, health insurance coverage for the Sonata® treatment is expanding. Just within the first six months of 2020, over 50 million new individuals became eligible for the Sonata® system, should they ever require it.
Clinicians like Dr. Bradley Hurst — the current Director of Assisted Reproduction at Atrium Health's Carolinas Medical Center — are putting in the effort to improve the availability of the Sonata® system, by helping to expand insurance coverage for the procedure. For example, Dr. Hurst has put in substantial effort to improve access within the Charlotte, North Carolina area.
Fortunately for fibroid patients, many health care professionals see the value of medical innovation — not just Dr. Hurst, although he is certainly a great example. These specialists and professionals are collaborating with commercial payers, hoping to expand the public's access to the groundbreaking Sonata® treatment.
Medical directors of commercial insurance companies will determine whether certain treatments are safe, necessary, and effective enough, in order to warrant insurance coverage. They will also look at the cost-utility of that treatment, based on the disease state. Since medical policies are reviewed annually (at a minimum), there is a good chance that coverage for the Sonata® system will only continue to expand, given the effectiveness of the treatment. This is wonderful news for individuals searching for a non-invasive, uterus-preserving fibroid treatment, within their budget.
In the short time it's been available to the public, the Sonata® treatment has made a clear impact on how symptomatic uterine fibroids are approached and treated. With the development of the treatment, it's become increasingly obvious that surgical intervention, such as with a hysterectomy or a myomectomy, isn't always necessary to eliminate symptoms.
Sonata® Treatments at Arizona Gynecology Consultants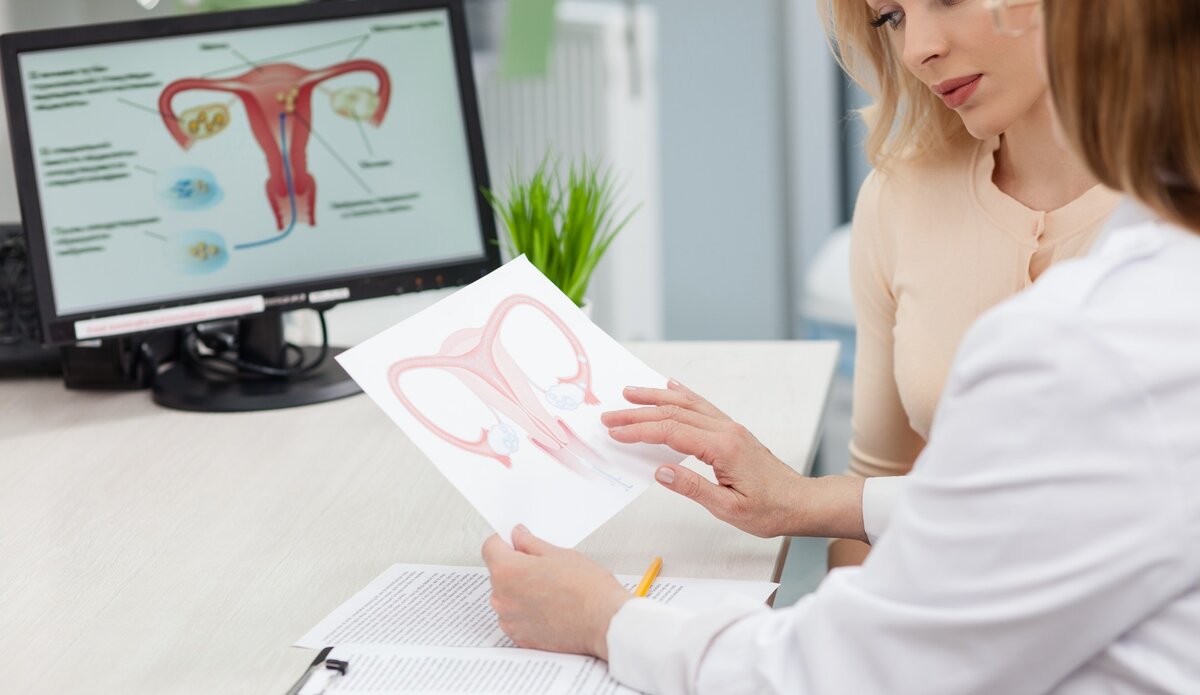 At Arizona Gynecology Consultants, we're proponents of medical interventions that improve lives. We also provide consulting services for gynecological surgeries, including the Sonata® treatment. You can always expect our team of dedicated healthcare professionals to treat your situation with the utmost compassion and respect. We bring high-quality health care services to the Phoenix metropolitan area, at several convenient locations.
Do you have any questions about the Sonata® treatment? Interested in learning more about our other gynecology services?
Contact us for more information. We'd love to help.
Founder and Medical Director of ARIZONA GYNECOLOGY CONSULTANTS
Dr. Kelly Roy is a specialist in surgical gynecology and advanced laparoscopy (and hysteroscopy). She is a long-time resident of Arizona and obtained her Bachelor of Science degree in Biomedical Engineering at Arizona State University before finishing her Doctorate of Medicine at the University of Arizona in 1997.
Dr. Roy completed her residency in Obstetrics and Gynecology at the then "Banner Good Samaritan Hospital" (now Banner University Medical Center), in Phoenix Arizona in 2001.
Well known for her teaching and surgical ability, she is on the faculty at the residency program at both Banner University Medical Center and Saint Joseph's Hospital in central Phoenix and is a Clinical Assistant Professor of Medicine at the University of Arizona College of Medicine, Phoenix Campus. Dr. Roy has taught advanced surgical techniques to medical students, residents, fellows and colleagues for over 15 years.
Dr. Roy is also a consultant to the medical device industry and has participated in the design and clinical testing of many instruments and surgical devices available on the world-wide market today.
Read More About Dr. Kelly Roy, MD   |   WebMD Profile   |   Health.USNews.com Profile |  Current Obstetrics and Gynecology Reports: TFA with the Sonata System